Satellite radio reception
You may experience problems in receiving XMЩ satellite radio signals in the following situations.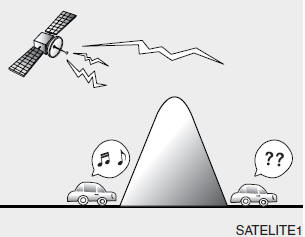 Х If you are driving in a tunnel or a covered parking area.
Х If you are driving beneath the top level of a multi-level freeway.
Х If you drive under a bridge.
Х If you are driving next to a tall vechicle( such as a truck or a bus) that block the signal.
Х If you are driving in a valley where the surrounding hills or peaks block the signal from the satellite.
Х If you are driving on a mountain road where the signal is blocked by mountains.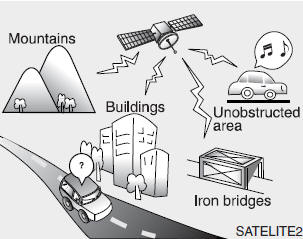 Х If you are driving in an area with tall trees that block the signal(10m or more), for example on a road through a dense forest.
Х The signal can become weak in some areas that are not covered by the repeater station network.
Please note that these may be other unforeseen circumstances when there are problems with the reception of XMЩ satellite radio signal.
See also:
Performance
A horsepower rating of 110 doesn't sound like a lot of power to anyone these days, but it was only a few years ago that a Honda Civic produced only 115 hp. The Accent's four-cylinder never felt un ...
Aux, USB and iPodЃ port (if equipped)
If your vehicle has an aux and/or USB(universal serial bus) port or iPod port, you can use an aux port to connect audio devices and a USB port to plug in a USB, and an iPod port to plug in an iPod ...
Windshield washers
In the OFF position, pull the lever gently toward you to spray washer fluid on the windshield and to run the wipers 1-3 cycles. Use this function when the windshield is dirty. The spray and wipe ...