Cup holder
WARNING - Hot liquids
• Do not place uncovered cups of hot liquid in the cup holder while the vehicle is in motion. If the hot liquid spills, you may burn yourself. Such a burn to the driver could lead to loss of control of the vehicle.
• To reduce the risk of personal injury in the event of sudden stop or collision, do not place uncovered or unsecured bottles, glasses, cans, etc., in the cup holder while the vehicle is in motion.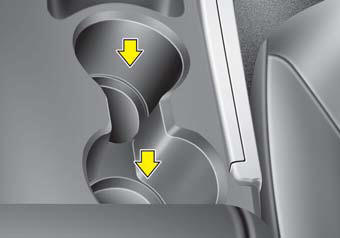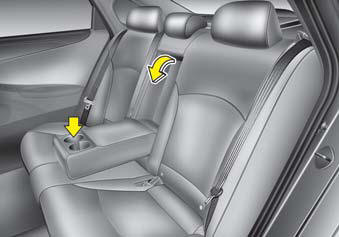 Cups or small beverage cans may be placed in the cup holders.
See also:
Air cnditioning care
Keeping the Condenser Clean The air conditioning condenser (and engine radiator) should be checked periodically for accumulation of dirt, dead insects, leaves, etc. These can interfere with maximu ...
Sun visor
Sun visor Your Hyundai is equipped with sun visors to give the driver and front passenger either frontal or sideward shade. To reduce glare or to shut out direct rays of the sun, turn the sun vi ...
Full-time 4WD operation
(If installed) Engine power can be delivered to all wheels. Full-time 4WD is useful when good traction is required, such as, when driving on slippery, wet or snow-covered roads and when moving out ...