Fan speed control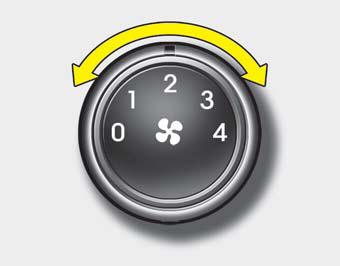 The ignition switch must be in the ON position for fan operation.
The fan speed control knob allows you to control the fan speed of the air flowing from the ventilation system. To change the fan speed, turn the knob to the right for higher speed or left for lower speed. Setting the fan speed control knob to the "0" position turns off the fan.
See also:
Accent in the market
If all you need is the most basic transportation, a sub-$10,000 Accent might be the right pick for you. But once you reach the full price tag by loading it up with features most buyers expect in a ...
Checking the Brake Fluid Level
WARNING: Use caution when handling brake fluid. It can damage your vision if it gets into your eyes. It will also damage your vehicle's paint if spilled on it and not removed immediately. ...
2010 Hyundai Tucson review by By Scott Burgess
It has spent nearly two decades repairing and then polishing its reputation. In the past, critics, including myself, have accused it of copying designs and then dulling them up. Some vehicles had ...