Windshield washers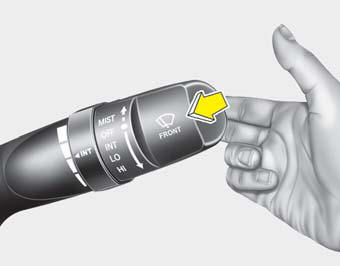 In the OFF position, pull the lever gently toward you to spray washer fluid on the windshield and to run the wipers 1-3 cycles.
Use this function when the windshield is dirty.
The spray and wiper operation will continue until you release the lever.
If the washer does not work, check the washer fluid level. If the fluid level is not sufficient, you will need to add appropriate non-abrasive windshield washer fluid to the washer reservoir.
The reservoir filler neck is located in the front of the engine compartment on the passenger side.
CAUTION
To prevent possible damage to the washer pump, do not operate the washer when the fluid reservoir is empty.
WARNING
Do not use the washer in freezing temperatures without first warming the windshield with the defrosters; the washer solution could freeze on contact with the windshield and obscure your vision.
CAUTION
Х To prevent possible damage to the wipers or windshield, do not operate the wipers when the windshield is dry.
Х To prevent damage to the wiper blades, do not use gasoline, kerosene, paint thinner, or other solvents on or near them.
Х To prevent damage to the wiper arms and other components, do not attempt to move the wipers manually.
See also:
Washing Your Hyundai
Never wash your car when the surface is hot from being in the sun. Always wash your car in the shade. Wash your car frequently. Dirt is abrasive and can scratch the paint if it is not removed. Ai ...
SRS (Airbag) Warning Light
The SRS warning light comes on for approximately 6 seconds after the key is turned to the "ON" position or after the engine is started, after which it will go out. This light also comes ...
Exterior
The original Genesis was an understated sedan. The attractive grille Ч sans the Hyundai "H" logo Ч was probably the most unique feature. For 2012 you'd have to say the redesigned headlig ...