Emergency trunk safety release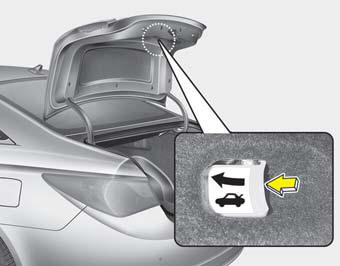 Your vehicle is equipped with an emergency trunk release cable located inside the trunk. The lever glows in the dark when the trunk lid is closed. If someone is inadvertently locked in the trunk, pulling this handle will release the trunk latch mechanism and open the trunk.
WARNING
• No one should be allowed to occupy the trunk of the vehicle at any time. If the trunk is partially or totally latched and the person is unable to get out, severe injury or death could occur due to lack of ventilation, exhaust fumes and rapid heat build-up, or because of exposure to cold weather conditions. The trunk is also a highly dangerous location in the event of a crash because it is not a protected occupant space but merely a part of the vehicle's crush zone.
• Your vehicle should be kept locked and keys be kept out of the reach of children. Parents should teach their children about the dangers of playing in trunks.
See also:
Electric Type
The outside rearview mirrors can be adjusted to your preferred rear vision, both directly behind the vehicle, and to the rear of the left and right sides. The remote control outside rearview mirr ...
Keep Paint and Trim in Good Condition
Scratches or chips in the finish should be covered with "touch-up" paint as soon as possible to reduce the possibility of corrosion. If bare metal is showing through, the attention of a ...
Use approved window washer anti-freeze in system
To keep the water in the window washer system from freezing, add an approved window washer anti-freeze solution in accordance with instructions on the container. Window washer anti-freeze is avail ...