Tire rotation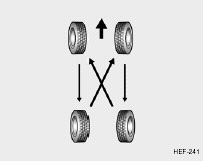 Tires should be rotated every 7,500 miles (12,000 km). If you notice that tires are wearing unevenly between rotations, have the car checked by a Hyundai dealer so the cause may be corrected.
After rotating, adjust the tire pressures and be sure to check wheel nut torque.
CAUTION:
Do not mix bias-ply and radial-ply under any circumstances. This may cause dangerous handling characteristics.
See also:
Scheduled maintenance service
Follow Normal Maintenance Schedule if the vehicle is usually operated where none of the following conditions apply. If any of the following conditions apply, follow Maintenance Under Severe Usage ...
Care of discs
Proper Handling Handle your disc as shown. Do not drop the disc. Hold the disc so you will not leave fingerprints on the surface. If the surface is scratched, it may cause the pickup to skip sig ...
Tire Maintenance
In addition to proper inflation, correct wheel alignment helps to decrease tire wear. If you find a tire is worn unevenly, have your dealer check the wheel alignment. When you have new tires instal ...