Engine number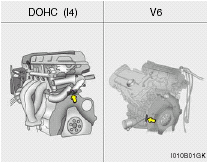 The engine number is stamped on the engine block as shown in the drawing.
See also:
Maintenance Requirements
The maintenance required for your Hyundai can be divided into three main areas: o Specified scheduled procedures o General checks o Do-it-yourself maintenance ...
Checking the amount of air conditioner refrigerant and compressor lubricant
When the amount of refrigerant is low, the performance of the air conditioning is reduced. Overfilling also has a negative impact on the air conditioning system. Therefore, if abnormal operation i ...
Exhaust Pipe and Muffler
Visually inspect the exhaust pipes, muffler and hangers for cracks, deterioration, or damage. Start the engine and listen carefully for any exhaust gas leakage. Tighten connections or replace part ...