Any questions?
If you have any questions about the care of your car, consult your Hyundai dealer.
R : Replace I : Inspect and, after inspection, clean, adjust, repair or replace if necessary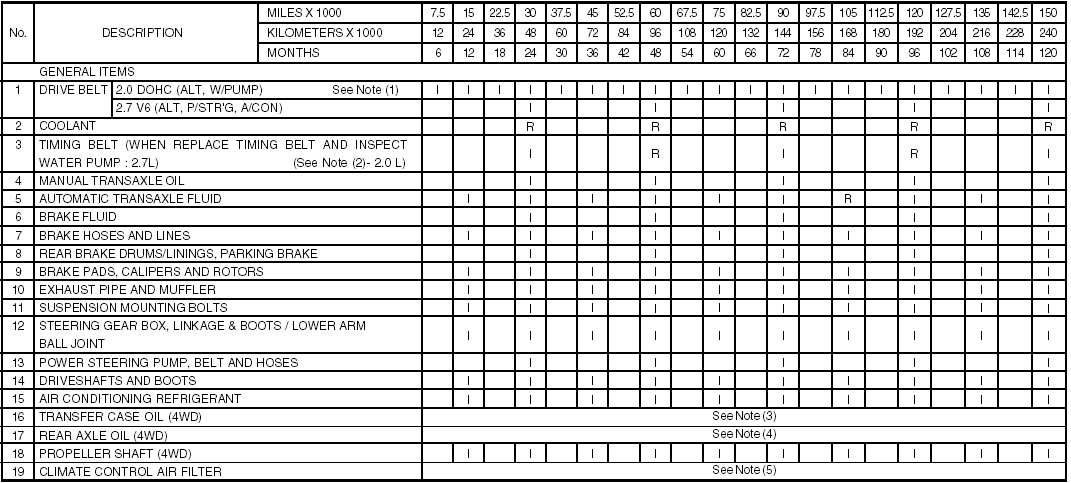 Note : (1) When replace drive belt and inspect water pump.
(2) For every 48 months or 37,200 miles (60,000 km), whichever occurs first : "I"
For every 72 months or 56,000 miles (90,000 km), whichever occurs first : "R" (3) Inspect every 25,000 miles (40,000 km)and replace every 62,000 miles (100,000 km).
(4) lnspect every 25,000 miles (40,000 km) (5) For every 12 months or 10,000 miles (15,000 km) whichever occurs first :"R"
See also:
Rocking the vehicle
If it is necessary to rock the vehicle to free it from snow, sand, or mud, first turn the steering wheel right and left to clear the area around your front wheels. Then, shift back and forth betwe ...
Cleaning the interior
To Clean the Vinyl Upholstery To clean the vinyl upholstery, first remove loose dirt and dust with a vacuum cleaner. Then apply a solution of mild soap or detergent and water using a clean sponge ...
Brake Hoses and Lines
Visually check for proper installation, chafing, cracks, deterioration and any leakage. Replace any deteriorated or damaged parts immediately. ...