Any questions?
If you have any questions about the care of your car, consult your Hyundai dealer.
R : Replace I : Inspect and, after inspection, clean, adjust, repair or replace if necessary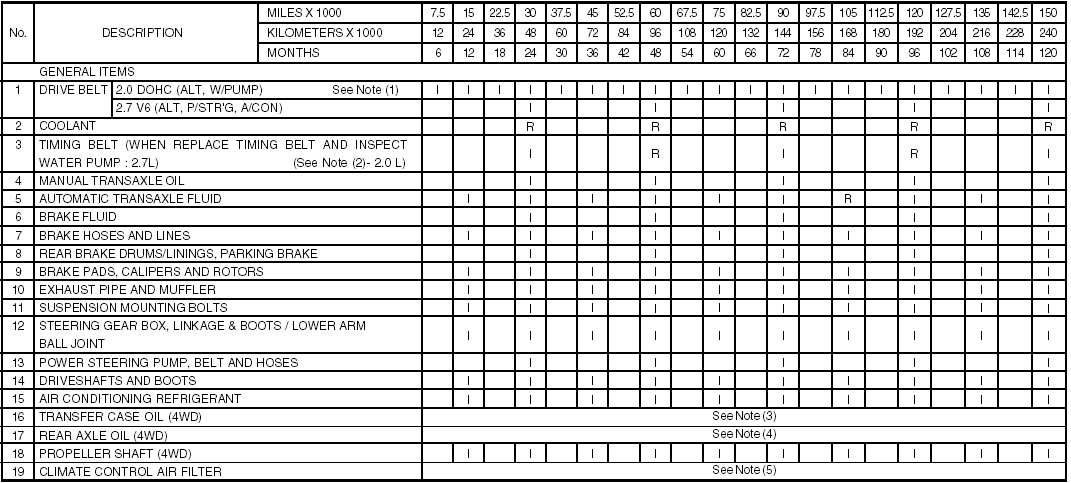 Note : (1) When replace drive belt and inspect water pump.
(2) For every 48 months or 37,200 miles (60,000 km), whichever occurs first : "I"
For every 72 months or 56,000 miles (90,000 km), whichever occurs first : "R" (3) Inspect every 25,000 miles (40,000 km)and replace every 62,000 miles (100,000 km).
(4) lnspect every 25,000 miles (40,000 km) (5) For every 12 months or 10,000 miles (15,000 km) whichever occurs first :"R"
See also:
EUROPEAN DESIGN
Key attributes of Hyundai's Fluidic Sculpture design philosophy are the athleticism and sophistication that Hyundai Tucson demonstrates through its flowing lines, full surfaces and muscular presen ...
Vacuum crankcase ventilation hoses
Inspect the surface of hoses for evidence of heat and/or mechanical damage. Hard and brittle rubber, cracking, tears, cuts, abrasions, and excessive swelling indicate deterioration. Particular att ...
Performance
There's a choice of three engines in the Genesis, as opposed to the V-6 and V-8 originally offered. Upgraded for 2012, the 3.8-liter base V-6 now makes 333 horsepower, up from 290 hp, while the 4. ...