Emergency towing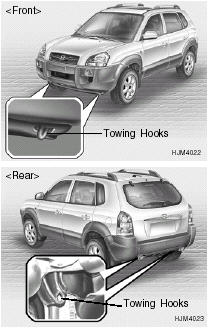 For emergency towing when no commercial tow vehicle is available, attach a tow cable, chain or strap to one of the towing hooks under the front/rear of your vehicle. Be very careful when attempting this procedure when the vehicle is on any unpaved surface to avoid damage to your vehicle.
Nor should towing be attempted if the wheels, drive train, axles, steering or brakes are damaged.
Before towing, be sure the transaxle is in neutral and the key is in "ACC" (with the engine off) or in the "ON" position (with the engine running). A driver must be in the towed vehicle to steer it and operate the brakes.
NOTE:
To avoid serious damage to your 4WD vehicle, limit the towing to 10 mph and not for more than 1 mile at ANY TIME.
See also:
2012 Hyundai Genesis review
When it made its 2009 debut, Hyundai's flagship sedan, the Genesis, was a marvel. It offered rear-wheel drive, a potent V-8 option and an interior nearly on par with those of Lexus and Acura. It w ...
Pre-Trip Inspections
1. Tires: Adjust the tire inflation pressures for highway driving. Low tire inflation pressures will result in overheating and possible failure of the tires. Avoid using worn or damaged tires whi ...
Don't Neglect the Interior
Moisture can collect under the floor mats and carpeting to cause corrosion. Check under the mats periodically to be sure the carpeting is dry. Use particular care if you carry fertilizers, cleanin ...