Antenna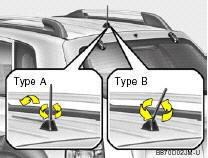 Roof Antenna
Your car uses a roof antenna to receive both AM and FM broadcast signals.
This antenna is a removable type. To remove the antenna, turn the antenna counterclockwise.
To install the antenna, turn the antenna clockwise.
CAUTION:
o Be sure to remove the antenna before washing the car in an automatic car wash or it may be damaged.
o Before entering a place with a low height clearance, be sure to adjust the roof antenna low.
o In some vehicles, the antenna can be folded into only front position.
o When reinstalling your antenna, it is important that it is fully tightened to ensure proper reception.
See also:
Use of MTBE
HYUNDAI recommends avoiding fuels containing MTBE (Methyl Tertiary Butyl Ether) over 15.0% vol. (Oxygen Content 2.7% weight) in your vehicle. Fuel containing MTBE over 15.0% vol. (Oxygen Content 2. ...
Starting
WARNING: Never run the engine in a closed or poorly ventilated area any longer than is needed to move your car in or out of the area. The carbon monoxide gas emitted is odorless and can cause s ...
Ride & Handling
The Santa Fe's very stiff suspension was probably the most surprising aspect of the SUV. It didn't help that most of my driving was done in the Land of Potholes — a.k.a. Chicago in the spring — wh ...