Steering wheel tilt lever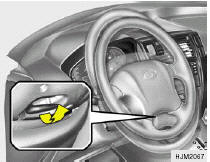 To Adjust the Steering Wheel:
1. Push the lever downward to unlock.
2. Raise or lower the steering wheel to the desired position.
3. After adjustment, securely tighten the lever by pulling it upward.
WARNING:
Do not attempt to adjust the steering wheel while driving as this may result in loss of control of the vehicle which may cause serious injury or death.
See also:
Review: 2012 Hyundai Accent GLS Sedan
The Hyundai Accent has never been a "gotta have it" sort of car. Instead, it's been a "what's the cheapest thing you got?" sort of car. The 2011 started at just $9,985 (plus shipping and handling) ...
High-Corrosion Areas
If you live in an area where your car is regularly exposed to corrosive materials, corrosion protection is particularly important. Some of the common causes of accelerated corrosion are road salts ...
2007 Hyundai Santa Fe review
If we were to pick the best redesigned SUVs for 2007, Hyundai's Santa Fe would be among the finalists. The overhaul gives new life to a model that was desperately in need of an update to stay comp ...