Floor mat anchor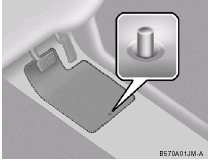 Floor mat anchor
When using a floor mat on the front floor carpet, make sure it attaches to the floor mat anchor in your vehicle. This keeps the floor mat from sliding forward.
WARNING:
o Make sure the floor mat is properly placed on the floor carpet. If the floor mat slips and interferes with the movement of the pedals during driving, it may cause an accident.
o Don't put an additional floor mat on the top of the anchored floor mat, otherwise the additional mat may slide forward and interfere with the movement of the pedals.
See also:
ECO Indicator (If Installed)
The ECO indicator is displayed to help you improve fuel efficiency when you are driving. o The ECO indicator (green) will turn on when you drive fuel efficiently in the ECO ON mode. If you don& ...
Don't let your parking brake freeze
Under some conditions your parking brake can freeze in the engaged position. This is most likely to happen when there is an accumulation of snow or ice around or near the rear brakes or if the bra ...
Air Conditioning Operation
To use the air conditioning to cool the interior: o Turn on the fan control switch. o Turn on the air conditioning switch by pushing in on the switch. The air conditioning indicator light should ...