Parking brake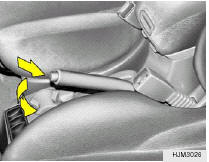 Applying the parking brake
To engage the parking brake, first apply the foot brake and then without pressing the release button in, pull the parking brake lever up as far as possible. In addition it is recommended that when parking the vehicle on a gradient, the shift lever should be positioned in the appropriate low gear on manual transaxle vehicles or in the P (Park) position on automatic transaxle vehicles.
CAUTION:
Driving with the parking brake applied will cause excessive brake pad (or lining) and brake rotor wear.
Releasing the parking brake
To release the parking brake, first apply the foot brake and pull the parking brake lever slightly.
Secondly, depress the release button and lower the parking brake lever while holding the button.
See also:
Owner maintenance precautions
Improper or incomplete service may result in problems. This section gives instructions only for the maintenance items that are easy to perform. As explained earlier in this section, several proced ...
Adding equipment to or modifying your air bag-equipped vehicle
If you modify your vehicle by changing your vehicle's frame, bumper system, front end or side sheet metal or ride height, this may affect the operation of your vehicle's air bag system. ...
Maintenance services
You should exercise the utmost care to prevent damage to your vehicle and injury to yourself whenever performing any maintenance or inspection procedures. Should you have any doubts concerning the ...