Parking brake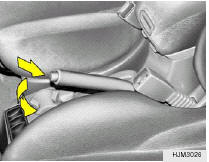 Applying the parking brake
To engage the parking brake, first apply the foot brake and then without pressing the release button in, pull the parking brake lever up as far as possible. In addition it is recommended that when parking the vehicle on a gradient, the shift lever should be positioned in the appropriate low gear on manual transaxle vehicles or in the P (Park) position on automatic transaxle vehicles.
CAUTION:
Driving with the parking brake applied will cause excessive brake pad (or lining) and brake rotor wear.
Releasing the parking brake
To release the parking brake, first apply the foot brake and pull the parking brake lever slightly.
Secondly, depress the release button and lower the parking brake lever while holding the button.
See also:
Battery replacement
A smart key battery should last for several years, but if the smart key is not working properly, try replacing the battery with a new one. If you are unsure how to use your smart key or replace ...
Checking the Brakes
CAUTION: Because brakes are essential to the safe operation of the car, it is suggested that they be checked and inspected by your Hyundai dealer. The brakes should be checked and inspected for w ...
Moisture Breeds Corrosion
Moisture creates the conditions in which corrosion is most likely to occur. For example, corrosion is accelerated by high humidity, particularly when temperatures are just above freezing. In such ...