Glove box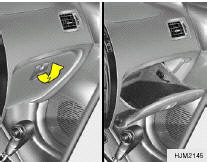 o To open the glove box, pull on the glove box release lever.
o The glove box door can be locked (and unlocked) with the key. (If installed)
WARNING:
To avoid the possibility of injury in case of an accident or a sudden stop, the glove box door should be kept closed when the car is in motion.
Illuminated Glove Box (If installed)
Opening the glove box will automatically turn on the light when the multi-function switch is turned to the first/second position.
See also:
Illuminated ignition switch
Whenever a front door is opened, the ignition switch will be illuminated for your convenience, provided the ignition switch is not in the ON position. The light will go off immediately when the ...
Cruise control
(If installed) The cruise control system provides automatic speed control for your comfort when driving on straight, open freeways, toll roads, or other noncongested highways. This system is des ...
Use of E85 fuel
E85 fuel is an alternative fuel composed of 85 percent ethanol and 15 percent gasoline, and is manufactured for use in Flexible Fuel Vehicles. E85 is not compatible with your vehicle. Use of E85 m ...