Cigarette lighter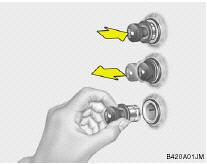 For the cigarette lighter to work, the key must be in the "ACC" position or the "ON" position.
To use the cigarette lighter, push it all the way into its socket. When the element has heated, the lighter will pop out to the "ready" position.
Do not hold the cigarette lighter pressed in. This can damage the heating element and create a fire hazard.
If it is necessary to replace the cigarette lighter, use only a genuine Hyundai replacement or its approved equivalent.
See also:
Washing Your Hyundai
Never wash your car when the surface is hot from being in the sun. Always wash your car in the shade. Wash your car frequently. Dirt is abrasive and can scratch the paint if it is not removed. Ai ...
ABS Service Reminder Indicator (SRI) (If Installed)
When the key is turned to the "ON" position, the Anti-Lock Brake System SRI will come on and then go off in a few seconds. If the ABS SRI remains on, comes on while driving, or does no ...
Side Repeater Light
1. Push the cover toward the front of vehicle and remove it. 2. Disconnect the power code. 3. Replace with a new bulb. ...