Cigarette lighter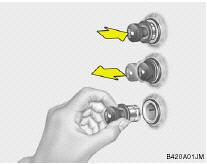 For the cigarette lighter to work, the key must be in the "ACC" position or the "ON" position.
To use the cigarette lighter, push it all the way into its socket. When the element has heated, the lighter will pop out to the "ready" position.
Do not hold the cigarette lighter pressed in. This can damage the heating element and create a fire hazard.
If it is necessary to replace the cigarette lighter, use only a genuine Hyundai replacement or its approved equivalent.
See also:
Filter replacement
It must be replaced when necessary, and should not be cleaned and reused. You can clean the filter when inspecting the air cleaner element. Clean the filter by using compressed air. 1. Loosen ...
Cruise Indicator (If Installed)
The indicator light illuminates when the cruise control system is enabled. The cruise indicator light in the instrument cluster is illuminated when the cruise control ON/OFF button on the steeri ...
Pre-Trip Inspections
1. Tires: Adjust the tire inflation pressures for highway driving. Low tire inflation pressures will result in overheating and possible failure of the tires. Avoid using worn or damaged tires whi ...