Digital clock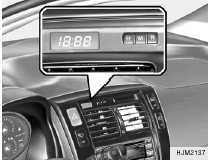 There are three control buttons for the digital clock. Their functions are:
HOUR
- Push "H" to advance the hour indicated.
MIN
- Push "M" to advance the minute indicated.
RESET
- Push "R" to reset minutes to ":00" to facilitate resetting the clock to the correct time.
When this is done:
Pressing "R" between 10 : 30 and 11 : 29 changes the readout to 11 : 00.
Pressing "R" between 11 : 30 and 12 : 29 changes the readout to 12 : 00.
Push the "R" button for 5 seconds to display a 12- or 24-hour clock (If installed).
See also:
Genesis Coupe in the Market
Whether you'll like the Genesis coupe depends a lot on how hard you'll drive it. While sports car enthusiasts might not be fully satisfied with its dynamics, shoppers looking for a nicely equipped ...
Engine coolant
The high-pressure cooling system has a reservoir filled with year-round antifreeze coolant. The reservoir is filled at the factory. Check the antifreeze protection and coolant level at least once a ...
Tire Pressure Monitoring System (TPMS)
Low Tire Pressure Telltale TPMS Malfunction Indicator Each tire, including the spare (if provided), should be checked monthly when cold and inflated to the inflation pressure recommended by the ...