Digital clock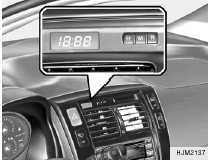 There are three control buttons for the digital clock. Their functions are:
HOUR
- Push "H" to advance the hour indicated.
MIN
- Push "M" to advance the minute indicated.
RESET
- Push "R" to reset minutes to ":00" to facilitate resetting the clock to the correct time.
When this is done:
Pressing "R" between 10 : 30 and 11 : 29 changes the readout to 11 : 00.
Pressing "R" between 11 : 30 and 12 : 29 changes the readout to 12 : 00.
Push the "R" button for 5 seconds to display a 12- or 24-hour clock (If installed).
See also:
Gasolines for Cleaner Air
To help contribute to cleaner air, Hyundai recommends you use gasolines treated with detergent additives, which help prevent deposit formation in the engine. These gasolines will help the engine r ...
Insrtument cluster
FUEL GAUGE The needle on the gauge indicates the approximate fuel level in the fuel tank. The fuel capacity is given in Section 9. ENGINE COOLANT TEMPERATURE GAUGE WARNING: Never remove the ...
Interior light
Map Light Push in the map light switch to turn the light on or off. This light is convenient as a map light at night or as a personal light for the driver and the passenger. INTERIOR LIGHT T ...