Foreword
Thank you for choosing Hyundai. We are pleased to welcome you to the growing number of discriminating people who drive Hyundais. The advanced engineering and high-quality construction of each Hyundai we build is something of which we're very proud.
Your Owner's Manual will introduce you to the features and operation of your new Hyundai. It is suggested that you read it carefully because the information it contains can contribute greatly to the satisfaction you receive from your new car.
The manufacturer also recommends that all service and maintenance on your car be performed by an authorized Hyundai dealer. Hyundai dealers are prepared to provide high-quality service, maintenance and any other assistance that may be required.
HYUNDAI MOTOR COMPANY
Note : Because future owners will also need the information included in this manual, if you sell this Hyundai, please leave the manual in the vehicle for their use. Thank you.
CAUTION:
Severe engine and transaxle damage may result from the use of poor quality fuels and lubricants that do not meet Hyundai specifications. You must always use high quality fuels and lubricants that meet the specifications listed on Page 9-4 in the Vehicle Specifications section of the Owner's Manual and which also appear
in the Service Station Information on the back cover of the Owner's Manual.
Guide to Hyundai Genuine Parts
1. What are Hyundai Genuine Parts?
Hyundai Genuine Parts are the same parts used by Hyundai Motor Company to manufacture vehicles. They are designed and tested for the optimum safety, performance, and reliability to our customers.
2. Why should you use genuine parts?
Hyundai Genuine Parts are engineered and built to meet rigid manufacturing requirements.
Using imitation, counterfeit or used salvage parts is not covered under the Hyundai New Vehicle Limited Warranty or any other Hyundai warranty. In addition, any damage to or failure of Genuine Hyundai Parts caused by the installation or failure of an imitation, counterfeit or used salvage part is not covered by any Hyundai Warranty.
3. How can you tell if you are purchasing Hyundai Genuine Parts?
Look for the Hyundai Genuine Parts Logo on the package (see below).
Hyundai Genuine Parts exported to the United States are packaged with labels written only in English.
Hyundai Genuine Parts are only sold through authorized Hyundai Dealerships.
To find the closest authorized dealer call 1-800-826-CARS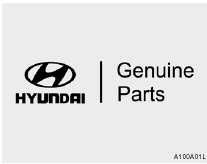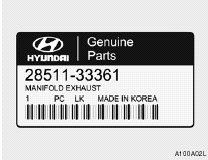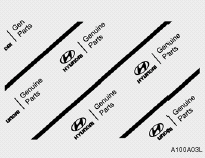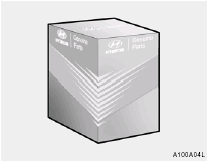 See also:
Change to "Winter Weight" Oil if Necessary
In some climates it is recommended that a lower viscosity "winter weight" oil be used during cold weather. See Section 9 for recommendations. If you aren't sure what weight oil you s ...
Locking from the Inside
To lock the doors from the inside, simply close the door and push the lock switch to the "LOCK" position. NOTE: o When pushing the lock switch of the passenger's door to the " ...
Interior Light
The interior courtesy light switch has three positions. The three positions are: o "DOOR" In the "DOOR" position, the interior courtesy light comes on when any door is opened ...