When to Replace Tires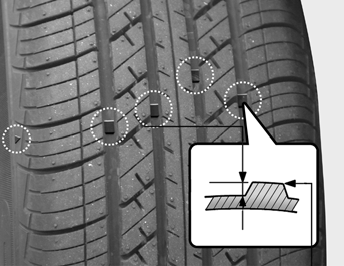 The original tires on your car have tread wear indicators. The location of tread wear indicators is shown by the "TWI" or "

"
marks, etc., The tread wear indicators appear when the tread depth is 0.06 in. (1.6 mm). The tire should be replaced when these appear as a solid bar across two or more grooves of the tread. Always replace your tires with those of the recommended size. If you change wheels, the new wheel's rim width and offset must meet Hyundai specification.
WARNING:
To reduce the chance or serious or fatal injuries from an accident caused by tire failure or loss of vehicle control: o Replace tires that are worn, show uneven wear, or are damaged. Worn tires can cause loss of braking effectiveness, steering control, and traction.
o Do not drive your vehicle with too little or too much pressure in your tires. This can lead to uneven wear and tire failure.
o When replacing tires, never mix radial and bias-ply tires on the same car. You must replace all tires (including the spare) if moving from radial to bias-ply tires.
o Using tires and wheel other than the recommended sizes could cause unusual handling characteristics and poor vehicle control, resulting in a serious accident.
o Wheels that do not meet Hyundai's specifications may fit poorly and result in damage to the vehicle or unusual handling and poor vehicle control.
o Tires degrade over time, even when they are not being used. Regardless of the remaining tread, it is recommended that tires tread, It is recommended that tires generally be replaced after 6 years of normal service. Heat caused by hot climates or frequent high loading conditions can accelerate the aging process. Failure to follow this Warning can result in sudden tire failure, which could lead to a loss of control and an accident involving serious injury or death.
o The ABS works by comparing the speed of the wheels. Tire size can affect wheel speed. When replacing tires, all 4 tires must use the same size originally supplied with the vehicle. Using tires of a different size can cause the ABS (Antilock Brake System) (If Installed) to work irregularly.
See also:
POWER WINDOWS (If Installed)
The power windows operate when the ignition key is in the "ON" position. The main switches are located on the driver's armrest and control the front (4/3 Door) and rear windows (4 ...
SPEEDOMETER
Your Hyundai's speedometer is calibrated in miles per hour (on the outer scale) and kilometers per hour (on the inner scale). ...
Risk of rollover
WARNING: o The 2WD Tucson is not designed for offroad use. The 4WD Tucson is designed primarily for use on paved roads. However, occasional use in off-highway conditions such as established unpav ...