Tire Rotation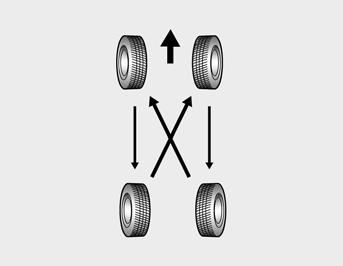 Tires should be rotated every 7,500 miles (12,000 km). If you notice that tires are wearing unevenly between rotations, have the car checked by a Hyundai dealer so the cause may be corrected.
After rotating, adjust the tire pressures and be sure to check the wheel nut torque.
WARNING:
o Do not use the temporary spare tire for tire rotation.
o Do not mix bias ply and radial ply tires under any circumstances. This may cause unusual handling characteristics that could result in death, serious injury, or property damage.
See also:
Don't let your parking brake freeze
Under some conditions your parking brake can freeze in the engaged position. This is most likely to happen when there is an accumulation of snow or ice around or near the rear brakes or if the bra ...
If You Lose Your Keys
If you lose your keys, many Hyundai dealers can make you a new key if you have your key number. If you lock the keys inside your car and you cannot obtain a new key, many Hyundai dealers can use ...
Instrument panel illumination
When the vehicle's parking lights or headlights are on, push the illumination control switch left or right to adjust the brightness of the instrument panel illumination. The illumination inten ...