Tire Rotation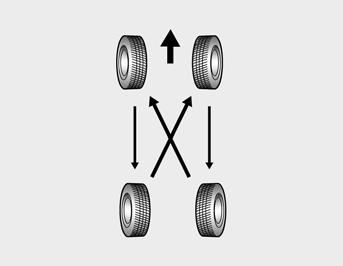 Tires should be rotated every 7,500 miles (12,000 km). If you notice that tires are wearing unevenly between rotations, have the car checked by a Hyundai dealer so the cause may be corrected.
After rotating, adjust the tire pressures and be sure to check the wheel nut torque.
WARNING:
o Do not use the temporary spare tire for tire rotation.
o Do not mix bias ply and radial ply tires under any circumstances. This may cause unusual handling characteristics that could result in death, serious injury, or property damage.
See also:
30,000 miles (48,000 km) or 24 months
❑ Inspect vacuum hose ❑ Inspect air conditioning refrigerant ❑ Inspect brake hoses and lines ❑ Inspect drive shafts and boots ❑ Inspect electronic throttle contr ...
Closing the hood
1. Before closing the hood, check the following: • All filler caps in engine compartment must be correctly installed. • Gloves, rags or any other combustible material must be removed from the engine ...
Trailer or vehicle towing
If you are considering towing with your car, you should first check with your State's Department of Motor Vehicles to determine their legal requirements. Since laws vary from State to State the req ...