Interior Light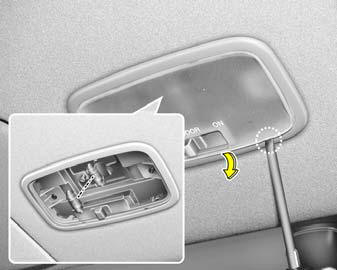 1. Remove the cover with a flat-head screwdriver.
2. Replace with a new bulb.
See also:
Push-starting
Your manual transaxle-equipped vehicle should not be push-started because it might damage the emission control system. Vehicles equipped with automatic transaxle cannot be push-started. Follow the ...
Fuel requirements
Your new vehicle is designed to use only unleaded fuel having a pump octane number ((R+M)/2) of 87 (Research Octane Number 91) or higher. Your new vehicle is designed to obtain maximum performance ...
Checking tire inflation pressure
Check your tires once a month or more. Also, check the tire pressure of the spare tire. How to Check Use a good quality gage to check tire pressure. You can not tell if your tires are properly i ...