Key Positions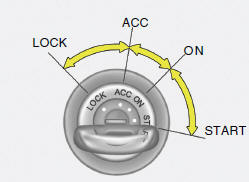 WARNING:
The engine should not be turned off or the key removed from the ignition key cylinder while the vehicle is in motion. The steering wheel is locked by removing the key.
o "START"
The engine is started in this position. It will crank until you release the key.
NOTE:
Do not hold the key in the "START" position for more than 15 seconds.
o "ON"
When the key is in the "ON" position, the ignition is on and all accessories may be turned on. If the engine is not running, the key should not be left in the "ON" position. This will discharge the battery and may also damage the ignition system.
o "ACC"
With the key in the "ACC" position, some electrical accessories (radio, etc.) may be operated.
o "LOCK"
The key can be removed or inserted in this position. To protect against theft, the steering wheel locks by removing the key.
NOTE:
If difficulty is experienced turning the ignition switch to the ACC position, turn the key while turning the steering wheel right and left to release the tension.
See also:
Main components of occupant classification system
• An Electronic Capacity measurement system in the front passenger seat which detects major characteristics of a person or object on the seat. • Electronic system to determine whether the passenger ...
Driver's and Passenger's Front Airbag
Your Hyundai is equipped with an advanced Supplemental Restraint (Airbag) System and lap/shoulder belts at both the driver and passenger seating positions. The indications of the system's pr ...
MICRO ANTENNA
Your car uses the micro antenna to receive AM, FM and Satellite Radio broadcast signals. This antenna is removable. CAUTION: Before entering a place with a low height clearance or a car wash, re ...