MICRO ANTENNA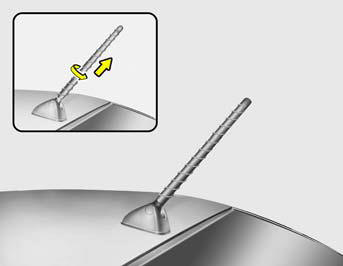 Your car uses the micro antenna to receive AM, FM and Satellite Radio broadcast signals. This antenna is removable.
CAUTION:
Before entering a place with a low height clearance or a car wash, remove the antenna by rotating it counterclockwise. If not, the antenna may be damaged.
See also:
If the engine stalls at a crossroad or crossing
If the engine stalls at a crossroad or crossing, set the shift lever in the N (Neutral) position and then push the vehicle to a safe place. ...
Cleaning the Windows
You may use any household window cleaner on the windows. However, when cleaning the inside of the rear window be careful not to damage the rear window defroster wiring. ...
Corrosion protection
Protecting Your Hyundai from Corrosion By using the most advanced design and construction practices to combat corrosion, Hyundai produces cars of the highest quality. However, this is only part of ...