Satellite radio reception
You may experience problems in receiving XMTM satellite radio signals in the following situations.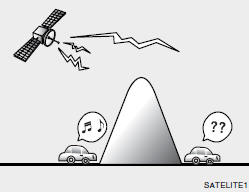 Х If you are driving in a tunnel or a covered parking area.
Х If you are driving beneath the top level of a multi-level freeway.
Х If you drive under a bridge.
Х If you are driving next to a tall vehicle (such as a truck or a bus) that block the signal.
Х If you are driving in a valley where the surrounding hills or peaks block the signal from the satellite.
Х If you are driving on a mountain road where the signal is blocked by mountains.
Х If you are driving in an area with tall trees that block the signal (10m or more) ; for example, on a road through a dense forest.
Х The signal can become weak in some areas that are not covered by the repeater station network.
Please note that these may be other unforeseen circumstances when there are problems with the reception of XMTM satellite radio signal.
See also:
Power windows
The ignition switch must be in the ON position for power windows to operate. Each door has a power window switch that controls the door's window. The driver has a power window lock switch which ...
2. Evaporative emission control (including ORVR: Onboard Refueling Vapor Recovery) system
The Evaporative Emission Control System is designed to prevent fuel vapors from escaping into the atmosphere. (The ORVR system is designed to allow the vapors from the fuel tank to be loaded into ...
CIGARETTE LIGHTER
For the cigarette lighter to work, the key must be in the "ACC" position or the "ON" position. To use the cigarette lighter, push it all the way into its socket. When the elem ...