To decrease the cruising speed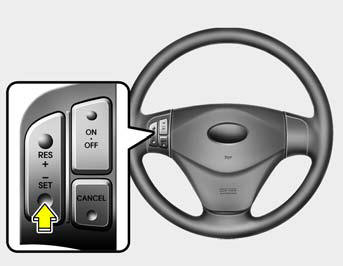 Follow either of these procedures:
o Push the -/SET switch and hold it. Your vehicle will gradually slow down. Release the switch at the speed you want to maintain.
o Push the -/SET switch and release it immediately. The cruising speed will decrease by 1 mph (1.6 km/h) each time the -/SET switch is operated in this manner.
See also:
To Clean the Vinyl Upholstery
To clean the vinyl upholstery, first remove loose dirt and dust with a vacuum cleaner. Then apply a solution of mild soap or detergent and water using a clean sponge or soft cloth. Allow this to s ...
Running costs
The new Hyundai Santa Fe proves that exceptional performance and a high specification need not come at the expense of running costs or a sky-high purchase price. Despite the improvements in equipm ...
Consumer information
This consumer information has been prepared in accordance with regulations issued by the National Highway Traffic Safety Administration of the U.S. Department of Transportation. It provides the pu ...