To decrease the cruising speed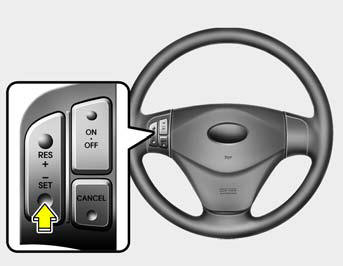 Follow either of these procedures:
o Push the -/SET switch and hold it. Your vehicle will gradually slow down. Release the switch at the speed you want to maintain.
o Push the -/SET switch and release it immediately. The cruising speed will decrease by 1 mph (1.6 km/h) each time the -/SET switch is operated in this manner.
See also:
Common Causes of Corrosion
The most common causes of corrosion on your car are: o Road salt, dirt and moisture that is allowed to accumulate underneath the car. o Removal of paint or protective coatings by stones, gravel, abr ...
Charging System Warning Light
The charging system warning light should come on when the ignition is turned on, then go out when the engine is running. If the light stays on while the engine is running, there is a mal ...
Battery saver function
• The purpose of this feature is to prevent the battery from being discharged. The system automatically turns off the parking lights when the driver removes the ignition key (smart key : turns off ...