SUN VISOR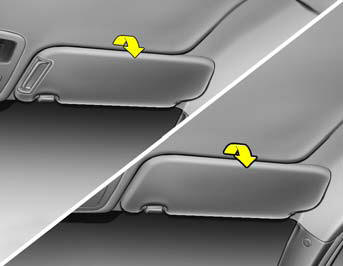 Your Hyundai is equipped with sun visors to give the driver and front passenger either frontal or sideward shade. To reduce glare or to shut out direct rays of the sun, turn the sun visor down.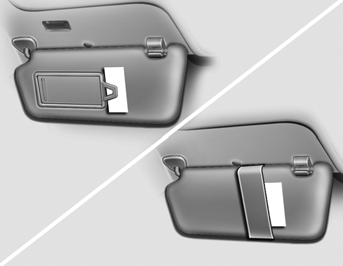 Ticket holders and vanity mirrors are provided on the back of the sun visor for the driver and the front passenger (If Installed).
NOTE:
The Supplemental Restraint System (SRS) label containing useful information can be found on the topside of sun visor.
WARNING:
o Do not place the sun visor in such a manner that it obscures visibility of the roadway, traffic or other objects.
WARNING:
o Do not move the sun visor out to cover the side window if there is an item attended to it such as a garage door remote control, pens, air fresheners or the like. These objects could cause injury if the curtain airbag is deployed.
See also:
Evaporative Emission Control (Including ORVR: Onboard Refueling Vapor Recovery) System
The Evaporative Emission Control System is designed to prevent fuel vapors from escaping into the atmosphere. (The ORVR system is designed to allow the vapors from the fuel tank to be loaded into ...
Features
The problem with low-cost models like the Accent is that their low advertised price translates to few frills — or even basic amenities. Pricing for the 2010 models starts at the same low $9,970 pr ...
When to replace tires
The original tires on your car have tread wear indicators . The location of tread wear indicators is shown by the "TWI" or "" marks, etc., The tread wear indicators appear wh ...