DAY/NIGHT INSIDE REAR- PARKING BRAKE VIEW MIRROR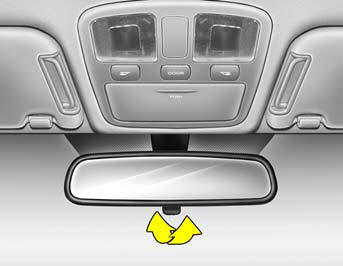 Your Hyundai is equipped with a day/ night inside rearview mirror. The "night" position is selected by flipping the tab at the bottom of the mirror toward you. In the "night" position, the glare of headlights of cars behind you is reduced.
See also:
Power Steering Fluid Level
The power steering fluid level should be checked regularly. To check the power steering fluid level, be sure the engine is "OFF", then check to make certain that the power steering flu ...
Emergency towing
For emergency towing when no commercial tow vehicle is available, attach a tow cable, chain or strap to one of the towing hooks under the front/rear of your vehicle. Be very careful when attempt ...
Why didn't my air bag go off in a collision? (Inflation and non-inflation conditions of the air bag)
There are many types of accidents in which the air bag would not be expected to provide additional protection. These include rear impacts, second or third collisions in multiple impact accidents, ...