DAY/NIGHT INSIDE REAR- PARKING BRAKE VIEW MIRROR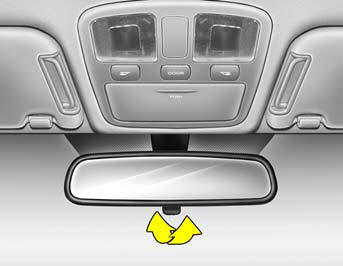 Your Hyundai is equipped with a day/ night inside rearview mirror. The "night" position is selected by flipping the tab at the bottom of the mirror toward you. In the "night" position, the glare of headlights of cars behind you is reduced.
See also:
When to Replace Tires
The original tires on your car have tread wear indicators. The location of tread wear indicators is shown by the "TWI" or "" marks, etc., The tread wear indicators appear whe ...
Power Steering Pump, Belt and Hoses
Check the power steering pump and hoses for leakage and damage. Replace any damaged or leaking parts immediately. Inspect the power steering belt for evidence of cuts, cracks, excessive wear, oili ...
Front Turn Signal light
1. Open the engine hood and disconnect the negative (-) post of the battery. 2. Disconnect the power cord from the bulb. 3. Take out the bulb from the bulb holder by turning it counterclockwise. ...