Power outlets
(If installed)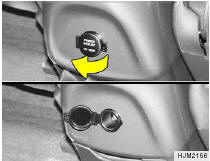 These are located in the quarter trim and on the rear main console.
These supply 12V electric power to operate electric accessories or equipment only when the key is in the "ON" or "ACC" position.
CAUTION:
o Use when the engine is running and remove a plug from the power outlet after using the electric appliance. Using when the engine stops or remaining the electric appliance with plugged in for many hours may cause the battery to be discharged.
o Do not use the power outlet to connect electric accessories or equipment other than those designed to operate on 12 volts.
o Some electronic devices can cause electronic interference when plugged into the power outlet. These devices may cause excessive audio noise and malfunctions in other electronic systems or devices used in your vehicle.
See also:
TEMPORARY SPARE TIRE
The following instructions for the temporary spare tire should be observed: 1. Check inflation pressure as soon as is practical after installing the spare tire, and adjust to the specified pressure ...
HEATING AND VENTILATION
1. Temperature control 2. Air conditioning switch (If Installed) 3. Air intake control switch 4. Air flow control 5. Fan speed control Fan Speed Control This is used to turn the blower fan o ...
Temperature Control
This control is used to adjust the degree of heating or cooling desired. ...