SUNGLASS HOLDER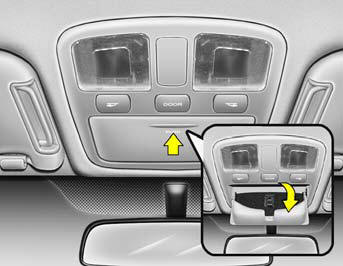 The sunglass holder is located on the front overhead console. Push the end of the cover to open the sunglass holder.
WARNING:
o Do not keep objects except sunglass inside the sunglass holder. Such objects can be thrown from the holder in the event of a sudden stop or an accident, possibly injuring the passengers in the vehicle.
o Do not open the sunglass holder while the vehicle is moving. The rear view mirror of the vehicle can be blocked by an open sunglass holder.
See also:
Fuel requirements
Your new vehicle is designed to use only unleaded fuel having a pump octane number ((R+M)/2) of 87 (Research Octane Number 91) or higher. Your new vehicle is designed to obtain maximum performance ...
Do not use methanol
Fuels containing methanol (wood alcohol) should not be used in your vehicle. This type of fuel can reduce vehicle performance and damage components of the fuel system. ...
82,500 miles (132,000 km) or 66 months
❑ Inspect air cleaner filter ❑ Inspect vacuum hose ❑ Replace engine oil and filter (82,500 miles (132,000 km) or 132 months) ...