Interior Light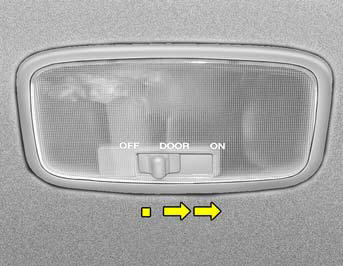 The interior courtesy light switch has three positions. The three positions are:
o "DOOR"
In the "DOOR" position, the interior courtesy light comes on when any door is opened regardless of the ignition key position and the light goes out after approximately 20 minutes even though the door is open. The light goes out gradually after 30 seconds if the door is closed. However if the ignition switch is ON or all doors are locked, interior light will turn off even within 30 seconds.
o "ON" In the "ON" position, the light stays on at all times.
CAUTION:
Do not leave the switch in this position for an extended period of time when the vehicle is not running.
o "OFF"
In the "OFF" position, the light stays off at all times even though a door is open.
See also:
Side impact and curtain air bags
Side impact and curtain air bags are designed to inflate when an impact is detected by side collision sensors depending on the strength, speed or angles of impact resulting from a side impact ...
Risk of rollover
WARNING: o The 2WD Tucson is not designed for offroad use. The 4WD Tucson is designed primarily for use on paved roads. However, occasional use in off-highway conditions such as established unpav ...
Air bag warning label (if equipped)
Air bag warning labels, some required by the U.S. National Highway Traffic Safety Administration (NHTSA), are attached to alert the driver and passengers of potential risks of the air bag syst ...