Tilting the Sunroof System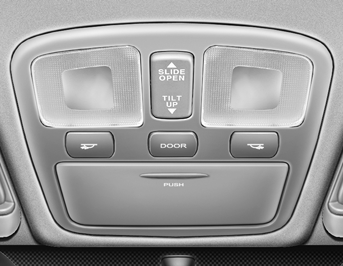 Auto tilt up
To use the auto tilt feature, press the TILT UP button on the overhead console for more than 1 second. The sunroof will tilt all the way open. To stop the sunroof tilting at any point, press any sunroof control button.
Manual tilt up
Press the TILT UP button on the overhead console for less than 0.5 second.
Manual tilt down
To close the sunroof, press the SLIDE OPEN button on the overhead console and hold it until the sunroof is closed.
NOTE:
After washing the car or after there is rain, be sure to wipe off any water that is on the sunroof before operating it.
WARNING:
o Do not close a sunroof if anyone's hands, arms or body are between the sliding glass and the sunroof sash, as this could result in injury.
o Do not place your head or arms out of the sunroof opening at any time.
o While the vehicle is moving, always keep the head, hands and other parts of the body of all occupants away from the roof opening. Otherwise, you could be seriously injured if the vehicle stops suddenly or if the vehicle is involved in an accident.
CAUTION:
o Do not open the sunroof in severely cold temperature or when it is covered with ice or snow.
o Periodically remove any dirt that may have accumulated on the guide rails.
o Do not press any sunroof control button longer than necessary. Damage to the motor or system components could occur.
See also:
Warnings and indicators
All warning lights are checked by turning the ignition switch ON (do not start the engine). Any light that does not illuminate should be checked by an authorized HYUNDAI dealer. After starting th ...
High Mounted Stop Light
1. Open the trunk lid. 2. Remove the socket from the housing by turning the socket counterclockwise until the tabs on the socket align with the slots on the housing. 3. Remove the bulb from th ...
Current Hyundai Elantra
The Hyundai Elantra is a compact sedan, although there is a related four-door hatchback known as the Elantra Touring. The sedan has been redesigned for 2011 with improvements in fuel economy, desi ...