DIGITAL CLOCK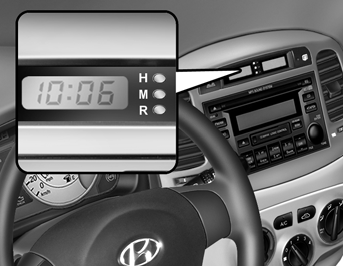 There are three control buttons for the digital clock. Their functions are: HOUR - Push "H" to advance the hour indicated.
MIN - Push "M" to advance the minute indicated.
RESET - Push "R" to reset minutes to ":00" to facilitate resetting the clock to the correct time. When this is done: Pressing "R" between 10 : 30 and 11 : 29 changes the readout to 11 : 00. Pressing "R" between 11 : 30 and 12 : 29 changes the readout to 12 : 00.
See also:
Fuel filter
A clogged filter can limit the speed at which the vehicle may be driven, damage the emission system and cause multiple issues such as hard starting. If an excessive amount of foreign matter accumu ...
Tire care
For proper maintenance, safety, and maximum fuel economy, you must always maintain recommended tire inflation pressures and stay within the load limits and weight distribution recommended for your ...
Pre-Tensioner Seat Belt
Your Hyundai vehicle is equipped with driver's and front passenger's pretensioner seat belts. The purpose of the pre-tensioner is to make sure that the seat belts fit tightly against the o ...