SEAT BELT-Driver's 3-Point System with Emergency Locking Retractor To Fasten Your Belt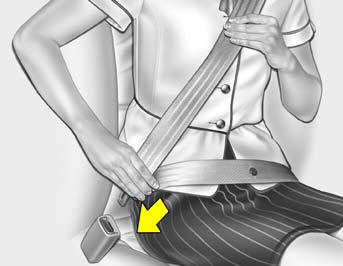 To fasten your seat belt, pull it out of the retractor and insert the metal tab into the buckle. There will be an audible "click" when the tab locks into the buckle.
The seat belt automatically adjusts to the proper length only after the lap belt is adjusted manually so that it fits snugly around your hips. If you lean forward in a slow, easy motion, the belt will extend and let you move around. If there is a sudden stop or impact, however, the belt will lock into position. It will also lock if you try to lean forward too quickly.
NOTE:
If the seat belt is not fastened when the ignition key is turned from the "OFF" position to the "ON" position, the seat belt warning will activate to remind the driver to fasten the seat belt as follows.
See also:
Interior
I have so much stuff to juggle when trying to get into any car: a purse, my kids' lunchboxes, swim bags, library books, dry cleaning, a bottle of water and more. This is why I'm such a fan of the ...
Use Unleaded Gasoline
Unleaded gasoline with a Pump Octane Rating of 87 (Research Octane Number 91) or higher must be used in your Hyundai. WARNING: o Do not "top off" after the nozzle automatically shuts o ...
Use of MTBE
HYUNDAI recommends avoiding fuels containing MTBE (Methyl Tertiary Butyl Ether) over 15.0% vol. (Oxygen Content 2.7% weight) in your vehicle. Fuel containing MTBE over 15.0% vol. (Oxygen Content 2. ...