Replacing the battery
When the transmitter's battery begins to get weak, it may take several pushes on the button to lock or unlock the doors, and the LED will not light. Replace the battery as soon as possible.
Battery type : CR2032
Replacement instructions:
1. Carefully separate the case with a blade screwdriver.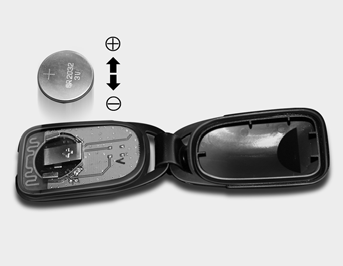 2. Remove the old battery from the case and note the polarity. Make sure the polarity of the new battery is the same(+side facing up), then insert it in the transmitter.
CAUTION:
An inappropriately disposed battery can be harmful to the environment and human health. Dispose the battery according to your local law(s) or regulation.
See also:
Overview
Hyundai Motor America introduced the all-new 2012 Hyundai Accent with best-in-class standard fuel economy and power at the 2011 New York International Auto Show. This marks the U.S. debut of the l ...
2010 Hyundai Genesis Coupe review by Bill Griffith
The plan was to make a legal U-turn in front of my house. The street is so wide that I'm almost able to make the swing without backing up; unfortunately there's not quite enough room. At this pi ...
Ride & Handling
Before driving the Elantra, I had my reservations about its driving dynamics. Some of Hyundai's other small models, like the Tucson crossover, don't offer the best driving experience, and I wonder ...