Locking from Outside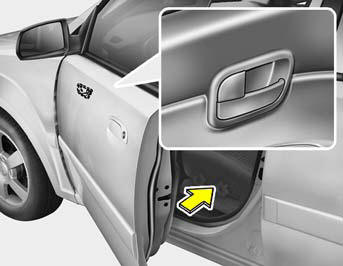 The doors can be locked without a key. To lock the doors, first push the inside lock switch to the "LOCK" position so that the red mark on the switch is not visible, then close the door.
NOTE:
o When pushing the lock switch of the passenger's door to the "LOCK" position, all doors can be locked.
o If your vehicle is equipped with the central door locking system, the door will not lock if the key is left in the ignition switch when the front doors are closed.
o When locking the door from outside, be careful not to lock the door with the ignition key left in the vehicle.
o To protect against theft, always remove the ignition key, close all windows, and lock all doors and the trunk lid (4 Door) / tail gate (3 Door) when leaving your vehicle unattended.
See also:
Trunk lid control switch
The trunk lid control switch is used to prevent unauthorized access to the trunk. • When the trunk lid control switch is UNLOCK position ( ), the trunk can be unlocked with the trunk lid release ...
Sunshade
The sunshade will be opened with the glass panel automatically when the glass panel is slid.You will have to close it manually if you want it closed. CAUTION The sunroof is made to slide togethe ...
Adding equipment to or modifying your air bag-equipped vehicle
If you modify your vehicle by changing your vehicle's frame, bumper system, front end or side sheet metal or ride height, this may affect the operation of your vehicle's air bag system. ...