Tire rotation
To equalize tread wear, it is recommended that the tires be rotated every 7,500 miles (12,000 km) or sooner if irregular wear develops.
During rotation, check the tires for correct balance.
When rotating tires, check for uneven wear and damage. Abnormal wear is usually caused by incorrect tire pressure, improper wheel alignment, outof- balance wheels, severe braking or severe cornering. Look for bumps or bulges in the tread or side of tire. Replace the tire if you find either of these conditions. Replace the tire if fabric or cord is visible. After rotation, be sure to bring the front and rear tire pressures to specification and check lug nut tightness.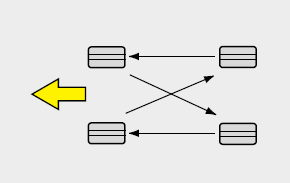 Disc brake pads should be inspected for wear whenever tires are rotated.
NOTICE
Rotate radial tires that have an asymmetric tread pattern only from front to rear and not from right to left.
WARNING
• Do not use the compact spare tire for tire rotation.
• Do not mix bias ply and radial ply tires under any circumstances. This may cause unusual handling characteristics that could result in death, severe injury, or property damage.
See also:
Anti-Lock Brake System
The Anti-Lock Brake System (ABS) is designed to prevent wheel lock-up during sudden braking or on hazardous road surfaces. The ABS control module monitors the wheel speed and controls the pressure ...
Don't let your parking brake freeze
Under some conditions your parking brake can freeze in the engaged position. This is most likely to happen when there is an accumulation of snow or ice around or near the rear brakes or if the bra ...
Unlocking
Using the door handle switch Press the button of the driver's outside door handle with all doors closed and locked, unlocks the driver's door. The hazard warning lights will blink and the chime w ...