Tire rotation
To equalize tread wear, it is recommended that the tires be rotated every 7,500 miles (12,000 km) or sooner if irregular wear develops.
During rotation, check the tires for correct balance.
When rotating tires, check for uneven wear and damage. Abnormal wear is usually caused by incorrect tire pressure, improper wheel alignment, outof- balance wheels, severe braking or severe cornering. Look for bumps or bulges in the tread or side of tire. Replace the tire if you find either of these conditions. Replace the tire if fabric or cord is visible. After rotation, be sure to bring the front and rear tire pressures to specification and check lug nut tightness.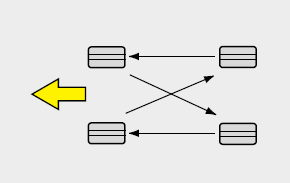 Disc brake pads should be inspected for wear whenever tires are rotated.
NOTICE
Rotate radial tires that have an asymmetric tread pattern only from front to rear and not from right to left.
WARNING
• Do not use the compact spare tire for tire rotation.
• Do not mix bias ply and radial ply tires under any circumstances. This may cause unusual handling characteristics that could result in death, severe injury, or property damage.
See also:
All season tires
HYUNDAI specifies all season tires on some models to provide good performance for use all year round, including snowy and icy road conditions. All season tires are identified by ALL SEASON and/or ...
Owner maintenance precautions
Improper or incomplete service may result in problems. This section gives instructions only for the maintenance items that are easy to perform. As explained earlier in this section, several proced ...
Trunk Lid Emergency Latch Release
Your vehicle is equipped with a glow-inthe dark emergency trunk release lever located inside the trunk. It will glow after the trunk is closed. When pulled, this lever will release the trunk lat ...