Automatic climate control system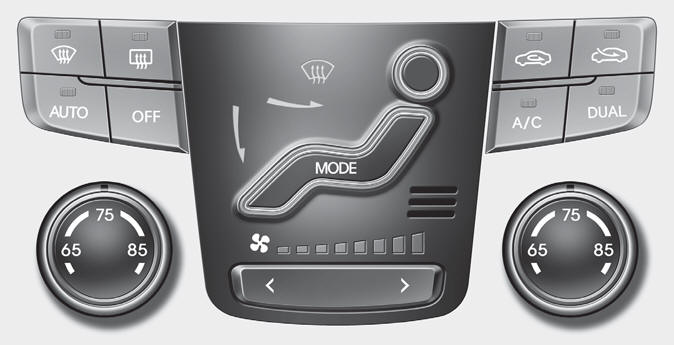 1. Front windshield defrost button 2. Rear window defrost button 3. AUTO (automatic control) button 4. OFF button
5. Driver's temperature control button 6. Mode indicator
7. Mode selection button 8. Fan speed indicator
9. Fan speed control button 10. Air intake control button 11. Air conditioning button 12. Dual temperature control selection knob 13. Passenger's temperature control knob
See also:
Jump Starting
WARNING: The gas produced by the battery during the jump-start operation is highly explosive. If these instructions are not followed exactly, serious personal injury and damage to the vehicle m ...
REAR WINDOW DEFROSTER SWITCH
The rear window defroster is turned on by pushing in the switch. To turn the defroster off, push the switch a second time. The rear window defroster automatically turns itself off after about 20 ...
Safety
For a car with this much power, safety is also at the top of the priority list. Hyundai is a leading innovator in safety, offering all its vehicles' safety features as standard equipment rather th ...