Automatic climate control system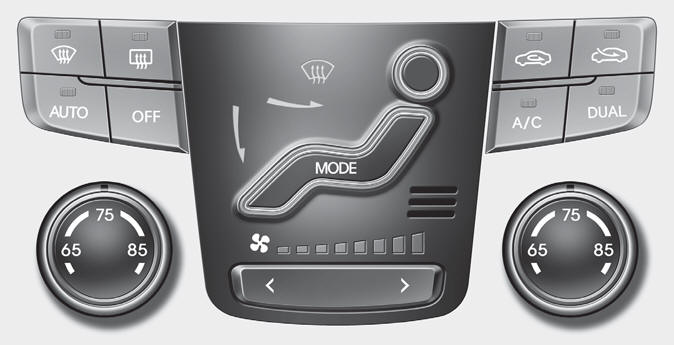 1. Front windshield defrost button 2. Rear window defrost button 3. AUTO (automatic control) button 4. OFF button
5. Driver's temperature control button 6. Mode indicator
7. Mode selection button 8. Fan speed indicator
9. Fan speed control button 10. Air intake control button 11. Air conditioning button 12. Dual temperature control selection knob 13. Passenger's temperature control knob
See also:
Keep Your Car Clean
The best way to prevent corrosion is to keep your car clean and free of corrosive materials. Attention to the underside of the car is particularly important. o If you live in a high-corrosion area ...
To decrease the cruising speed
Follow either of these procedures: o Push the -/SET switch and hold it. Your vehicle will gradually slow down. Release the switch at the speed you want to maintain. o Push the -/SET switch and r ...
Air bag non-inflation conditions
• In certain low-speed collisions the air bags may not deploy. The air bags are designed not to deploy in such cases because they may not provide benefits beyond the protection of the seat belts ...