Automatic climate control system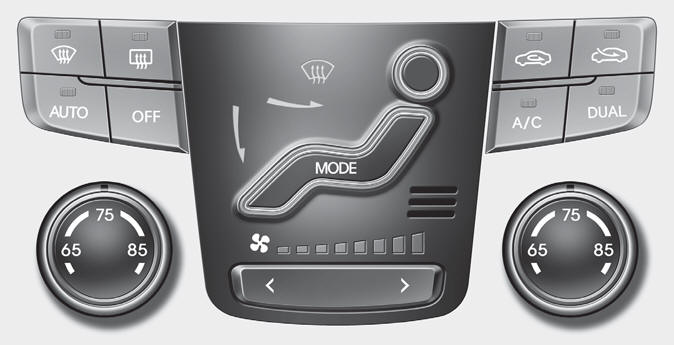 1. Front windshield defrost button 2. Rear window defrost button 3. AUTO (automatic control) button 4. OFF button
5. Driver's temperature control button 6. Mode indicator
7. Mode selection button 8. Fan speed indicator
9. Fan speed control button 10. Air intake control button 11. Air conditioning button 12. Dual temperature control selection knob 13. Passenger's temperature control knob
See also:
Anti-Lock Brake System
The Anti-Lock Brake System (ABS) is designed to prevent wheel lock-up during sudden braking or on hazardous road surfaces. The ABS control module monitors the wheel speed and controls the pressure ...
O/D OFF Indicator (Automatic Transaxle only)
When the overdrive switch is turned on, the overdrive off indicator will go out. This amber indicator will be illuminated when the overdrive switch is turned off. ...
Corrosion protection
Protecting Your Hyundai from Corrosion By using the most advanced design and construction practices to combat corrosion, Hyundai produces cars of the highest quality. However, this is only part of ...