Automatic heating and air conditioning
The automatic climate control system is controlled by simply setting the desired temperature.
The Full Automatic Temperature Control (FATC) system automatically controls the heating and cooling system as follows;
1. Push the AUTO button. The modes, fan speeds, air intake and air-conditioning will be controlled automatically by temperature setting.
2. Turn the temperature knob to set the desired temperature.
If the temperature is set to the lowest setting, the air conditioning system will operate continuously.
3. To turn the automatic operation off, press any button except the temperature control knob. If you press the mode selection button, air conditioning button, defrost button or air intake control button, or the fan speed button, the selected function will be controlled manually while other functions operate automatically.
For your convenience and to improve the effectiveness of the climate control, use the AUTO button and set the temperature to 73°F (23°C).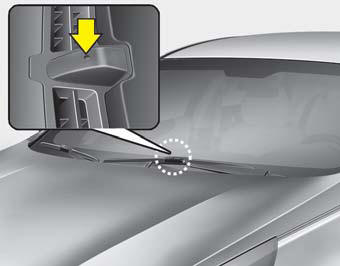 NOTICE
Never place anything over the sensor located on the instrument panel to ensure better control of the heating and cooling system.
See also:
Fuse panel description
Engine Compartment NOTE: Not all fuse panel descriptions in this manual may be applicable to your vehicle. It is accurate at the time of printing. When you inspect the fuse box on your vehicl ...
75,000 miles (120,000 km) or 60 months
❑ Inspect air cleaner filter ❑ Inspect vacuum hose ❑ Inspect air conditioning refrigerant ❑ Inspect brake hoses and lines ❑ Inspect drive shafts and boots d ...
Use of lights
Check your lights regularly for correct operation and always keep them clean. When driving during the day in conditions of poor visibility, it is helpful to drive with headlights on low beam. This ...