Opening the hood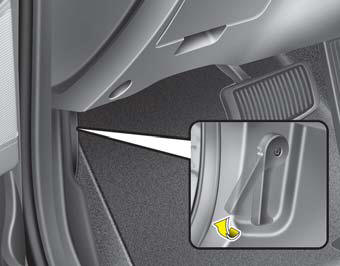 1. Pull the release lever to unlatch the hood. The hood should pop open slightly.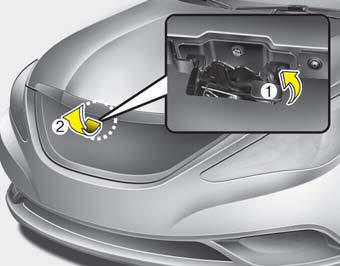 2. Go to the front of the vehicle, raise the hood slightly, pull the secondary latch (1) inside of the hood center and lift the hood (2).
3. Raise the hood. It will raise completely by itself after it has been raised about halfway.
See also:
Restrictions in handling keys
When leaving keys with parking lot and valet attendants, the following procedures will ensure that your vehicle's trunk and glove box compartment can only be opened with the mechanical key. Lock ...
2010 Hyundai Genesis Coupe review by Bill Griffith
The plan was to make a legal U-turn in front of my house. The street is so wide that I'm almost able to make the swing without backing up; unfortunately there's not quite enough room. At this pi ...
Specified Scheduled Procedures
These are the procedures such as inspections, adjustments and replacements that are listed in the maintenance charts starting on page 5-4. These procedures must be performed at the intervals shown ...