Opening the hood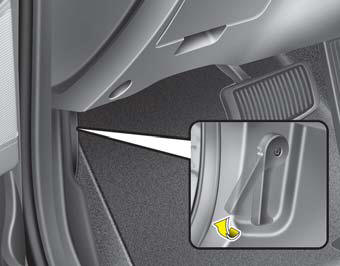 1. Pull the release lever to unlatch the hood. The hood should pop open slightly.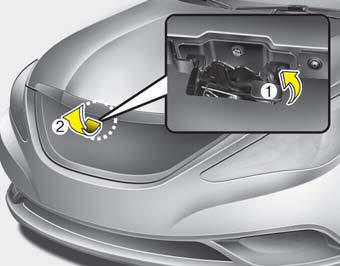 2. Go to the front of the vehicle, raise the hood slightly, pull the secondary latch (1) inside of the hood center and lift the hood (2).
3. Raise the hood. It will raise completely by itself after it has been raised about halfway.
See also:
Wheel Cap
1. Wrap a piece of cloth around the tip of the flat-head screwdriver to avoid scratching. 2. Insert the flat-head screwdriver into the notch of the wheel cap and pry gently to remove the wheel ...
Don't let your parking brake freeze
Under some conditions your parking brake can freeze in the engaged position. This is most likely to happen when there is an accumulation of snow or ice around or near the rear brakes or if the bra ...
Headlight Flasher
To flash the headlights, pull the switch lever toward you, then release it. The headlights can be flashed even though the headlight switch is in the "OFF" position. ...