Opening the hood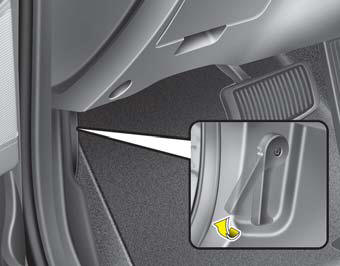 1. Pull the release lever to unlatch the hood. The hood should pop open slightly.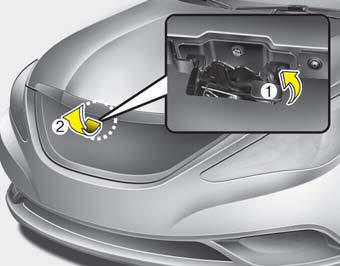 2. Go to the front of the vehicle, raise the hood slightly, pull the secondary latch (1) inside of the hood center and lift the hood (2).
3. Raise the hood. It will raise completely by itself after it has been raised about halfway.
See also:
Current Hyundai Accent
The Hyundai Accent is a five-passenger compact offered in four trim levels: GL, GS, SE and GLS. The GL, GS and the SE are two-door hatchbacks, while the GLS is available only as a four-door sedan. ...
Exterior
The sleek-lined Silverstone Metallic Genesis coupe with a rear spoiler turned plenty of heads - something I enjoyed. The Genesis coupe is sporty and sexy, and it resembles other uber-expensive fla ...
Cleaning the interior
To Clean the Vinyl Upholstery To clean the vinyl upholstery, first remove loose dirt and dust with a vacuum cleaner. Then apply a solution of mild soap or detergent and water using a clean sponge ...