Battery replacement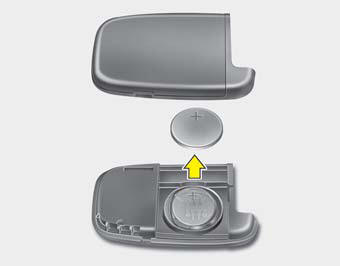 A smart key battery should last for several years, but if the smart key is not working properly, try replacing the battery with a new one. If you are unsure how to use your smart key or replace the battery, contact an authorized HYUNDAI dealer.
1. Insert a slim tool into the opening and gently pry open the rear cover of the smart key.
2. Replace the battery with a new battery (CR2032). When replacing the battery, make sure the battery positive У+Ф symbol faces up as indicated in the illustration.
3. Install the battery in the reverse order of removal.
CAUTION
Х The smart key is designed to give you years of trouble-free use, however it can malfunction if exposed to moisture or static electricity. If you are unsure how to use or replace the battery, contact an authorized HYUNDAI dealer.
Х Using the wrong battery can cause the smart key to malfunction. Be sure to use the correct battery.
Х To avoid damaging the smart key, don't drop it, get it wet, or expose it to heat or sunlight.
Х An inappropriately disposed battery can be harmful to the environment and human health.
Dispose the battery according to your local law(s) or regulation.
See also:
Manual Transaxle Oil
Inspect the manual transaxle oil according to the maintenance schedule. NOTE: If the oil level is low, check for possible leaks before adding oil. Do not overfill. ...
Engine Compartment
NOTE: Not all fuse panel descriptions in this manual may be applicable to your vehicle. It is accurate at the time of printing. When you inspect the fuse box on your vehicle, refer to the fus ...
Headlight aiming adjustment
Before performing aiming adjustment, make sure of the following. 1. Keep all tires inflated to the correct pressure. 2. Place the vehicle on level ground and press the front bumper & rear bump ...