Battery replacement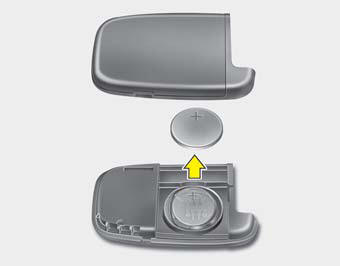 A smart key battery should last for several years, but if the smart key is not working properly, try replacing the battery with a new one. If you are unsure how to use your smart key or replace the battery, contact an authorized HYUNDAI dealer.
1. Insert a slim tool into the opening and gently pry open the rear cover of the smart key.
2. Replace the battery with a new battery (CR2032). When replacing the battery, make sure the battery positive У+Ф symbol faces up as indicated in the illustration.
3. Install the battery in the reverse order of removal.
CAUTION
Х The smart key is designed to give you years of trouble-free use, however it can malfunction if exposed to moisture or static electricity. If you are unsure how to use or replace the battery, contact an authorized HYUNDAI dealer.
Х Using the wrong battery can cause the smart key to malfunction. Be sure to use the correct battery.
Х To avoid damaging the smart key, don't drop it, get it wet, or expose it to heat or sunlight.
Х An inappropriately disposed battery can be harmful to the environment and human health.
Dispose the battery according to your local law(s) or regulation.
See also:
90,000 miles (144,000 km) or 72 months
❑ Inspect vacuum hose ❑ Inspect air conditioning refrigerant ❑ Inspect brake hoses and lines ❑ Inspect drive shafts and boots ❑ Inspect electronic throttle contr ...
Gauges
Speedometer The speedometer indicates the speed of the vehicle. The speedometer is calibrated in miles per hour and/or kilometers per hour. Tachometer The tachometer indicates the approximate ...
Genesis Coupe in the Market
Whether you'll like the Genesis coupe depends a lot on how hard you'll drive it. While sports car enthusiasts might not be fully satisfied with its dynamics, shoppers looking for a nicely equipped ...