Battery replacement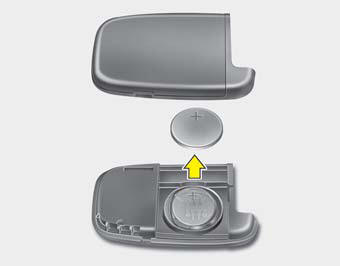 A smart key battery should last for several years, but if the smart key is not working properly, try replacing the battery with a new one. If you are unsure how to use your smart key or replace the battery, contact an authorized HYUNDAI dealer.
1. Insert a slim tool into the opening and gently pry open the rear cover of the smart key.
2. Replace the battery with a new battery (CR2032). When replacing the battery, make sure the battery positive У+Ф symbol faces up as indicated in the illustration.
3. Install the battery in the reverse order of removal.
CAUTION
Х The smart key is designed to give you years of trouble-free use, however it can malfunction if exposed to moisture or static electricity. If you are unsure how to use or replace the battery, contact an authorized HYUNDAI dealer.
Х Using the wrong battery can cause the smart key to malfunction. Be sure to use the correct battery.
Х To avoid damaging the smart key, don't drop it, get it wet, or expose it to heat or sunlight.
Х An inappropriately disposed battery can be harmful to the environment and human health.
Dispose the battery according to your local law(s) or regulation.
See also:
Checking the free-play
STEERING WHEEL To check the steering wheel free-play, stop the car with the wheels pointed straight ahead and gently move the steering wheel back and forth. Use very light finger pressure and be ...
Care of discs
Proper Handling Handle your disc as shown. Do not drop the disc. Hold the disc so you will not leave fingerprints on the surface. If the surface is scratched, it may cause the pickup to skip sig ...
Binding Arbitration of Warranty Claims
Any claim or dispute you may have related to your vehicle's warranty or the duties contemplated under the warranty, including claims related to the refund or partial refund of your vehicle' ...