Battery replacement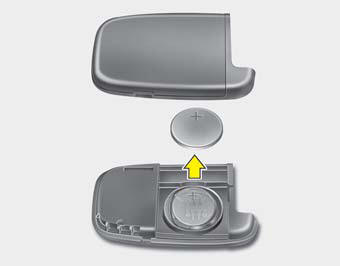 A smart key battery should last for several years, but if the smart key is not working properly, try replacing the battery with a new one. If you are unsure how to use your smart key or replace the battery, contact an authorized HYUNDAI dealer.
1. Insert a slim tool into the opening and gently pry open the rear cover of the smart key.
2. Replace the battery with a new battery (CR2032). When replacing the battery, make sure the battery positive У+Ф symbol faces up as indicated in the illustration.
3. Install the battery in the reverse order of removal.
CAUTION
Х The smart key is designed to give you years of trouble-free use, however it can malfunction if exposed to moisture or static electricity. If you are unsure how to use or replace the battery, contact an authorized HYUNDAI dealer.
Х Using the wrong battery can cause the smart key to malfunction. Be sure to use the correct battery.
Х To avoid damaging the smart key, don't drop it, get it wet, or expose it to heat or sunlight.
Х An inappropriately disposed battery can be harmful to the environment and human health.
Dispose the battery according to your local law(s) or regulation.
See also:
Trailer or vehicle towing
If you are considering towing with your car, you should first check with your State's Department of Motor Vehicles to determine their legal requirements. Since laws vary from State to State the req ...
To set cruise control speed
1. Push the cruise ON-OFF button on the steering wheel to turn the system on. The CRUISE indicator light in the instrument cluster will illuminate. 2. Accelerate to the desired speed, which must be ...
Review: 2012 Hyundai Accent GLS Sedan
The Hyundai Accent has never been a Уgotta have itФ sort of car. Instead, itТs been a УwhatТs the cheapest thing you got?Ф sort of car. The 2011 started at just $9,985 (plus shipping and handling) ...