Checking the parking brake
Type A
Check whether the stroke is within specification when the parking brake pedal is depressed with 44 lb (20 kg, 196 N) of force. Also, the parking brake alone should securely hold the vehicle on a fairly steep grade. If the stroke is more or less than specified, have the parking brake adjusted by an authorized HYUNDAI dealer. Stroke : 4~5 notch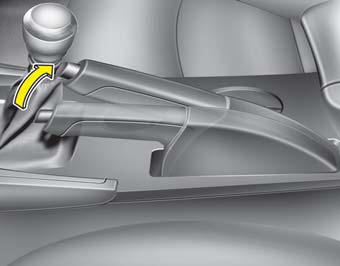 Type B
Check the stroke of the parking brake by counting the number of "clicks'' heard while fully applying it from the released position. Also, the parking brake alone should securely hold the vehicle on a fairly steep grade. If the stroke is more or less than specified, have the parking brake adjusted by an authorized HYUNDAI dealer.
See also:
Electronic stability control (ESC)
The Electronic Stability control (ESC) system is designed to stabilize the vehicle during cornering maneuvers. ESC checks where you are steering and where the vehicle is actually going. ESC applie ...
Driving in flooded areas
Avoid driving through flooded areas unless you are sure the water is no higher than the bottom of the wheel hub. Drive through any water slowly. Allow adequate stopping distance because brake perf ...
Child restraint system
Children riding in the car should sit in the rear seat and must always be properly restrained to minimize the risk of injury in an accident, sudden stop or sudden maneuver. According to accident s ...