Checking the parking brake
Type A
Check whether the stroke is within specification when the parking brake pedal is depressed with 44 lb (20 kg, 196 N) of force. Also, the parking brake alone should securely hold the vehicle on a fairly steep grade. If the stroke is more or less than specified, have the parking brake adjusted by an authorized HYUNDAI dealer. Stroke : 4~5 notch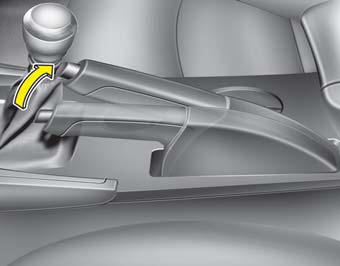 Type B
Check the stroke of the parking brake by counting the number of "clicks'' heard while fully applying it from the released position. Also, the parking brake alone should securely hold the vehicle on a fairly steep grade. If the stroke is more or less than specified, have the parking brake adjusted by an authorized HYUNDAI dealer.
See also:
2009 Hyundai Accent review
In a world of economic instability, any new car that can tout a sub-$10,000 starting price has a lot going for it. OK, it has exactly one thing going for it: It's cheap. But that doesn't necessarily ...
Parking brake
Inspect the parking brake system including the parking brake pedal and cables. ...
Adding Brake Fluid
WARNING: Handle brake fluid carefully. It can damage your vision if it gets into your eyes. Use only DOT 3 or DOT 4 specification fluid from a sealed container. Do not allow the fluid can or rese ...