Checking the parking brake
Type A
Check whether the stroke is within specification when the parking brake pedal is depressed with 44 lb (20 kg, 196 N) of force. Also, the parking brake alone should securely hold the vehicle on a fairly steep grade. If the stroke is more or less than specified, have the parking brake adjusted by an authorized HYUNDAI dealer. Stroke : 4~5 notch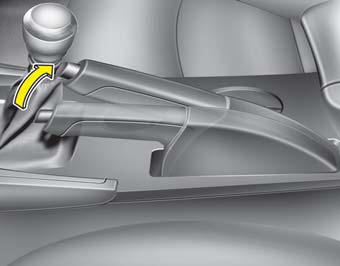 Type B
Check the stroke of the parking brake by counting the number of "clicks'' heard while fully applying it from the released position. Also, the parking brake alone should securely hold the vehicle on a fairly steep grade. If the stroke is more or less than specified, have the parking brake adjusted by an authorized HYUNDAI dealer.
See also:
Fuse/relay panel description
Inside the fuse/relay panel covers, you can find the fuse/relay label describing fuse/relay name and capacity. Inner panel fuse panel Engine compartment fuse panel NOTICE Not all fuse panel ...
Trunk Lid (4 Door)
o The trunk lid is opened by first turning the key clockwise to release the lock, then raising the door manually. o To close, lower the trunk lid, then press down on it until it locks. To be sure ...
SPACIOUS INTERIOR WITH PLENTY OF CARGO ROOM
Other less exciting matters like cargo space and interior volume are also high points for the Accent, with rather generous helpings of both available in the Hyundai. The company says that the Acce ...