License plate light bulb replacement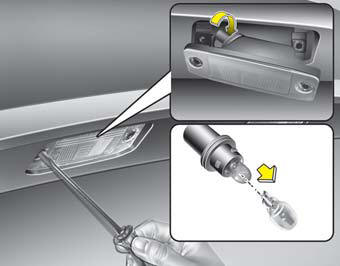 1. Loosen the retaining screws with a philips head screwdriver.
2. Remove the soket by turning it connterclockwise.
3. Remove the bulb by pulling it straight out.
4. Install a new bulb.
5. Reinstall the bulb assembly securely with the retaining screws.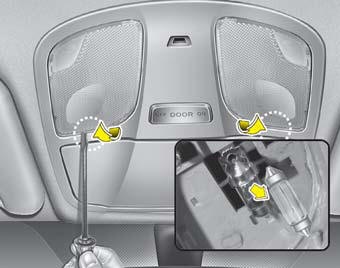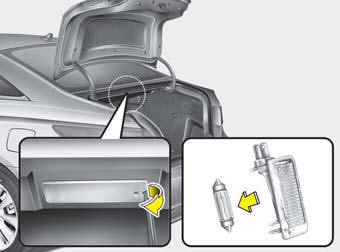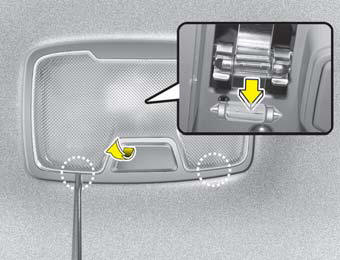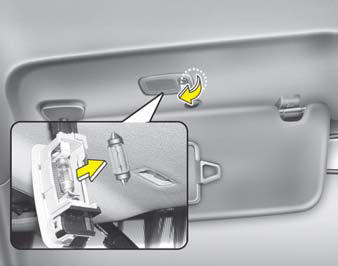 Interior light bulb replacement
1. Using a flat-blade screwdriver, gently pry the lens from the interior light housing.
2. Remove the bulb by pulling it straight out.
WARNING
Prior to working on the Interior Lights, ensure that the "OFF" button is depressed to avoid burning your fingers or receiving an electric shock.
3. Install a new bulb in the socket.
4. Align the lens tabs with the interior light housing notches and snap the lens into place.
CAUTION
Use care not to dirty or damage lens, lens tab, and plastic housings.
See also:
PARKING BRAKE
Always engage the parking brake before leaving the car. This also turns on the parking brake indicator light when the key is in the "ON" or "START" position. Before driving a ...
Features
There are no separate trim levels for the Sonata Hybrid, which comes with a slew of standard features and just one option package. Standard are cloth seats, 16-inch alloy wheels, low-rolling-resis ...
Washing and waxing
Washing Your Hyundai Never wash your car when the surface is hot from being in the sun. Always wash your car in the shade. Wash your car frequently. Dirt is abrasive and can scratch the paint if ...