Steering wheel audio control (if equipped)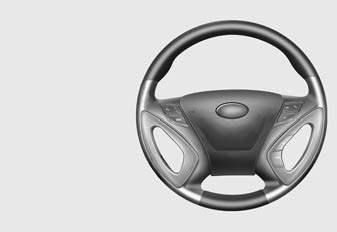 The steering wheel may incorporate audio control buttons.
CAUTION
Do not operate audio remote control buttons simultaneously.
1. VOLUME (VOL+/-)
• Push the lever upward (+) to increase the volume.
• Push the lever downward (-) to decrease the volume.
2. PRESET/SEEK (

/

) The SEEK/PRESET button has different
functions based on the system mode. For the following functions the button should be pressed for 0.8 second or more.
RADIO mode
It will function as the AUTO SEEK select button.
CD/USB/iPod mode
It will function as the FF/REW button. If the SEEK/PRESET button is pressed for less than 0.8 second, it will work as follows in each mode.
RADIO mode
It will function as the PRESET STATION buttons.
CD/USB/iPod mode
It will function as TRACK UP/DOWN button.
3. MODE
Press the button to change audio source. - FM(1~2)➟AM➟SAT(1~3)➟CD➟USB AUX(iPod) FM...
Detailed information for audio control buttons are described in the following pages in this section.
See also:
Steering wheel tilt lever
To Adjust the Steering Wheel: 1. Push the lever downward to unlock. 2. Raise or lower the steering wheel to the desired position. 3. After adjustment, securely tighten the lever by pulling it u ...
Sunshade
The sunshade will be opened with the glass panel automatically when the glass panel is slid.You will have to close it manually if you want it closed. CAUTION The sunroof is made to slide togethe ...
Evaporative Emission Control (Including ORVR: Onboard Refueling Vapor Recovery) System
The Evaporative Emission Control System is designed to prevent fuel vapors from escaping into the atmosphere. (The ORVR system is designed to allow the vapors from the fuel tank to be loaded into ...