Horn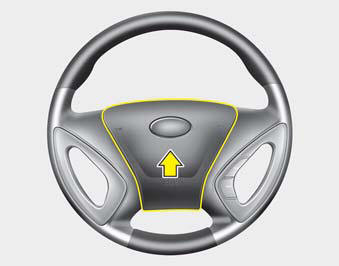 To sound the horn, press the horn symbol on your steering wheel.
Check the horn regularly to be sure it operates properly.
NOTICE
To sound the horn, press the area indicated by the horn symbol on your steering wheel (see illustration). The horn will operate only when this area is pressed.
CAUTION
Do not strike the horn severely to operate it, or hit it with your fist. Do not press on the horn with a sharppointed object.
See also:
Breaking in Your New Hyundai
During the First 1200 Miles (2000 Km) No formal "break-in" procedure is required with your new Hyundai. However, you can contribute to the economical operation and durability of your Hyun ...
Driving for Economy
You can save fuel and get more miles from your car if you follow these suggestions: o Drive smoothly. Accelerate at a moderate rate. Don't make "jack-rabbit" starts or full-throttle s ...
Rear Brake Drums/Linings, Parking Brake
Check the rear brake drums and linings for scoring, burning, leaking fluid, broken parts, and excessive wear. Inspect the parking brake system including the parking brake lever and cables. For det ...