Tilt steering
Tilt steering allows you to adjust the steering wheel before you drive. You can also raise it to give your legs more room when you exit and enter the vehicle.
The steering wheel should be positioned so that it is comfortable for you to drive, while permitting you to see the instrument panel warning lights and gauges.
WARNING
• Never adjust the angle of the steering wheel while driving. You may lose steering control and cause severe personal injury, death or accidents.
• After adjusting, push the steering wheel both up and down to be certain it is locked in position.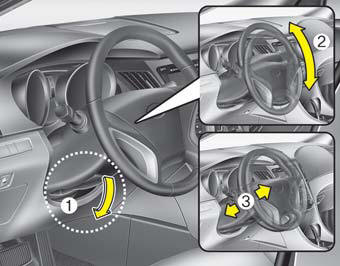 To change the steering wheel angle, pull down the lock release lever (1), adjust the steering wheel to the desired angle (2) and height (if equipped) (3), then pull up the lock-release lever to lock the steering wheel in place. Be sure to adjust the steering wheel to the desired position before driving.
See also:
Checking brake pedal clearance
You need a helper to check the brake pedal clearance. With the engine running, have your helper press down on the brake pedal several times and then hold it down with a force of about 110 lbs (5 ...
Necessary inspections
Fluid levels, such as engine oil, engine coolant, brake fluid, and washer fluid should be checked on a regular basis, with the exact interval depending on the fluid. Further details are provided i ...
Checking the automatic transaxle fluid level
The automatic transaxle fluid level should be checked regularly. Keep the vehicle on level ground with the parking brake applied and check the fluid level according to the following procedure. 1 ...