Opening the fuel filler lid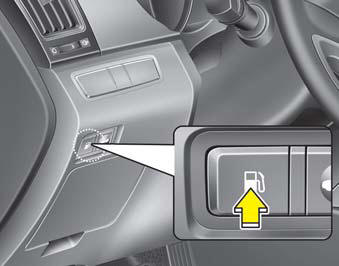 The fuel filler lid must be opened from inside the vehicle by pushing the fuel filler lid opener button.
NOTICE
If the fuel filler lid will not open because ice has formed around it, tap lightly or push on the lid to break the ice and release the lid. Do not pry on the lid. If necessary, spray around the lid with an approved de-icer fluid (do not use radiator anti-freeze) or move the vehicle to a warm place and allow the ice to melt.Sunroof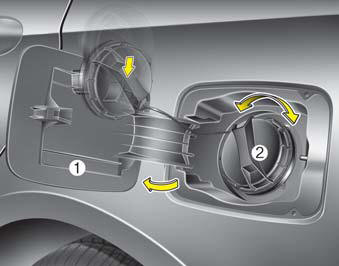 1. Stop the engine.
2. To open the fuel filler lid, push the fuel filler lid opener button.
3. Pull the fuel filler lid (1) out to fully open.
4. To remove the cap, turn the fuel tank cap (2) counterclockwise.
5. Refuel as needed.
See also:
Curtain Airbag
Curtain airbags are located along both sides of the roof rails above the front and rear doors. They are designed to help protect the heads of the front seat occupants and the rear outboard seat ...
REAR SEAT ENTRY (3 Door)
The front passenger's seatback should be tilted to enter the rear seat. By pulling up on the recliner control lever (1) at the outside of the front passenger's seat, the seatback will til ...
Ride & Handling
Before driving the Elantra, I had my reservations about its driving dynamics. Some of Hyundai's other small models, like the Tucson crossover, don't offer the best driving experience, and I wonder ...