Why didn't my air bag go off in a collision? (Inflation and non-inflation conditions of the air bag)
There are many types of accidents in which the air bag would not be expected to provide additional protection.
These include rear impacts, second or third collisions in multiple impact accidents, as well as low speed impacts. In other words, just because your vehicle is damaged and even if it is totally unusable, don't be surprised that the air bags did not inflate.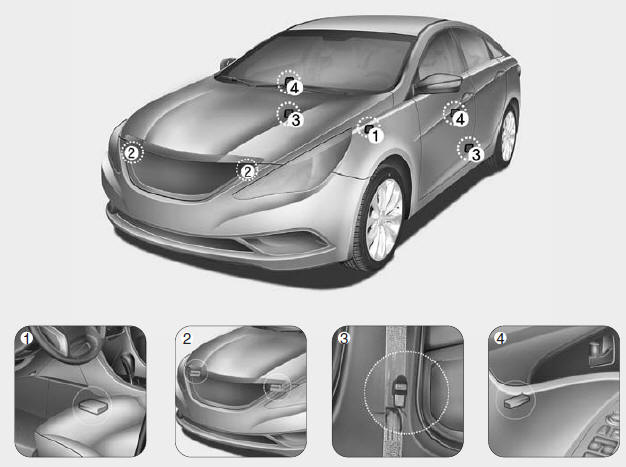 Air bag collision sensors
(1) SRS control module (2) Front impact sensor
(3) Side impact sensor
(4) Side pressure sensor
WARNING
• Do not hit or allow any objects to impact the locations where air bags or sensors are installed. This may cause unexpected air bag deployment, which could result in serious personal injury or death.
• If the installation location or angle of the sensors is altered in any way, the air bags may deploy when they should not or they may not deploy when they should, causing severe injury or death. Therefore, do not try to perform maintenance on or around the air bag sensors. Have the vehicle checked and repaired by an authorized HYUNDAI dealer.
• Problems may arise if the sensor installation angles are changed due to the deformation of the front bumper, body or B pillars or front door where side collision sensors are installed. Have the vehicle checked and repaired by an authorized HYUNDAI dealer.
• Your vehicle has been designed to absorb impact and deploy the air bag(s) in certain collisions. Installing bumper guards or replacing a bumper with non-genuine parts may adversely affect your vehicle's collision and air bag deployment performance.
See also:
To Check the Fluid Level
The fluid level in the brake fluid reservoir should be checked periodically. The level should be between the "MIN" and "MAX" marks on the side of the reservoir. If the level ...
Tire Information
The tires supplied on your new Hyundai are chosen to provide the best performance for normal driving. If you ever have questions about your tire warranty and where to obtain service, see the tire ...
BRAKE PAD WEAR WARNING SOUND
The front disc brake pads have wear indicators that should make a high-pitched squealing or scraping noise when new pads are needed. The sound may come and go or be heard all the time when the veh ...