Recommended cold tire inflation pressures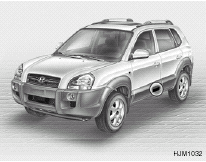 Tire label located on the driver's side of the center pillar outer panel gives the cold tire pressures recommended for your vehicle with the original tire size, the number of people that can be in your vehicle and vehicle capacity weight.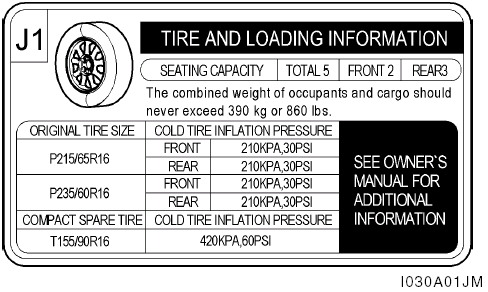 Type A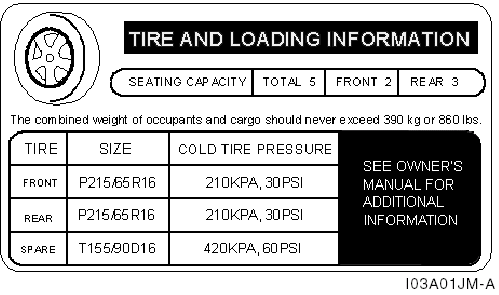 Type B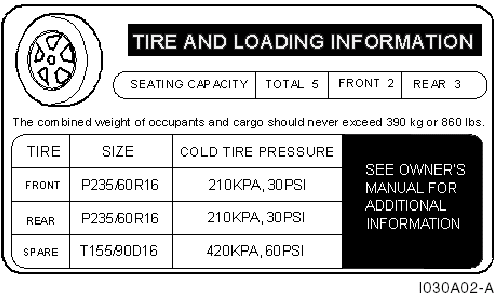 Type C
These pressures were chosen to provide the most satisfactory combination of ride comfort, tire wear and stability under normal conditions. Tire pressures should be checked at least monthly.
Proper tire inflation pressures should be maintained for these reasons:
WARNING:
o Inspect your tires frequently for proper inflation as well as wear and damage. Always use a tire pressure gauge.
o Tires with too much or too little pressure wear unevenly causing poor handling, loss of vehicle control, and sudden tire failure leading to accidents, injuries, and even death. The recommended cold tire pressure for your vehicle can be found in this manual and on the tire label located on the driver's side of the center pillar.
o Worn tires can cause accidents.
Replace tires that are worn, show uneven wear, or are damaged.
o Remember to check the pressure of your spare tire. Hyundai recommends that you check the spare every time you check the pressure of the other tires on your vehicle.
NOTE:
o Underinflation also results in excessive wear, poor handling and
reduced fuel economy. Wheel deformation also is possible. Keep
your tire pressures at the proper levels. If a tire frequently needs refilling, have it checked by your Hyundai Dealer.
o Overinflation produces a harsh ride, excessive wear at the center of the tire tread, and a greater possibility of damage from road hazards.
WARNING:
Overinflation or underinflation can reduce the tire life, adversely affect vehicle handling, and lead to sudden tire failure. This could rusult in loss of vehicle control and potential injury.
CAUTION:
Always observe the following: o Check pressures when the tires are cold. (After the vehicle has been parked for at least three hours or hasn't been driven more than one mile (1.6 km) since starting up.)
o Check the pressure of your spare tire each time you check the pressure of other tires.
o Never overload your vehicle. Be especially careful about overloading if you equip your vehicle with a luggage rack.
o Worn, old tires can cause accidents.
If your tread is badly worn, or if your tires have been damaged, replace them.
See also:
DEFROSTING/DEFOGGING
Use the heating/ventilation system to defrost or defog the windshield: To remove interior fog on the windshield: o Set the air flow control to the defrost () position (The A/C will automatically ...
Side impact and curtain air bags
Side impact and curtain air bags are designed to inflate when an impact is detected by side collision sensors depending on the strength, speed or angles of impact resulting from a side impact ...
Steering gear box, linkage & boots/lower arm ball joint
With the vehicle stopped and engine off, check for excessive free-play in the steering wheel. Check the linkage for bends or damage. Check the dust boots and ball joints for deterioration, cracks, ...