Vehicle identification number (VIN)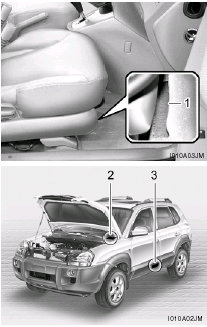 The vehicle identification number (VIN) is the number used in registering your car and in all legal matters pertaining to its ownership, etc. It can be found in three different places on your car:
1. Lower side of the front passenger seat under the carpet.
2. On the left top side of the instrument panel where it can be seen by looking down through the windshield.
3. On the lower side of the left center pillar outer panel.
See also:
Infant or Small Child
All 50 states have child restraint laws. You should be aware of the specific requirements in your state. Child and/or infant safety seats must be properly placed and installed in the rear seat. In ...
Tire pressure monitoring system (TPMS)
(If installed) Low Tire Pressure Telltale. TPMS Malfunction Indicator. Each tire, including the spare (if provided), should be checked monthly when cold and inflated to the inflation pressure ...
To Check the Oil Level
Before checking the oil, warm up the engine to the normal operating temperature and be sure it is parked on level ground. Turn the engine off. Wait five minutes, then remove the dipstick, wipe it ...