Checking brake pedal clearance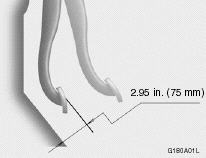 You need a helper to check the brake pedal clearance. With the engine running, have your helper press down on the brake pedal several times and then hold it down with a force of about 110 lbs (50 kg, 490 N). The brake pedal clearance is the distance from the top surface of the brake pedal to the asphalt sheeting under the floor mat.
If the brake pedal clearance is not within the limits specified in the illustration, have it inspected by your Hyundai dealer and adjusted or repaired if necessary.
See also:
Tires and wheels
...
TRUNK LID/TAIL GATE
WARNING: The trunk lid or the tail gate should always be kept completely closed while the vehicle is in motion. If it is left open or ajar, poisonous exhaust gases may enter the car resulting in ...
One Person Per Belt
Two people (including children) should never attempt to use a single seat belt. This could increase the severity of injuries in case of an accident. ...