Checking brake pedal clearance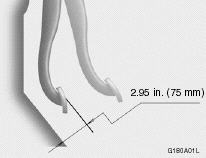 You need a helper to check the brake pedal clearance. With the engine running, have your helper press down on the brake pedal several times and then hold it down with a force of about 110 lbs (50 kg, 490 N). The brake pedal clearance is the distance from the top surface of the brake pedal to the asphalt sheeting under the floor mat.
If the brake pedal clearance is not within the limits specified in the illustration, have it inspected by your Hyundai dealer and adjusted or repaired if necessary.
See also:
Electronic stability control (ESC)
The Electronic Stability control (ESC) system is designed to stabilize the vehicle during cornering maneuvers. ESC checks where you are steering and where the vehicle is actually going. ESC applie ...
Using a Child Restraint System with the "Tether Anchorage" System
For small children and babies, the use of a child seat or infant seat is required. This child seat or infant seat should be of appropriate size for the child and should be installed in accordance ...
One Person Per Belt
Two people (including children) should never attempt to use a single seat belt. This could increase the severity of injuries in case of an accident. ...