High-mounted rear stop light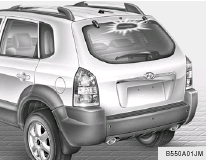 In addition to the lower-mounted rear stoplights on either side of the car, the high mounted rear stoplight in the center of the rear window also lights when the brakes are applied.
See also:
2010 Hyundai Genesis Coupe review by Bill Griffith
The plan was to make a legal U-turn in front of my house. The street is so wide that I'm almost able to make the swing without backing up; unfortunately there's not quite enough room. At this pi ...
Tire care
For proper maintenance, safety, and maximum fuel economy, you must always maintain recommended tire inflation pressures and stay within the load limits and weight distribution recommended for your ...
Placing a passenger seat belt into the automatic locking mode
The automatic locking mode will help prevent the normal movement of the child in the vehicle from causing the seat belt to loosen and compromise the child restraint system. To secure a chi ...